Think of a dangerous sport. What comes to mind?
Auto racing? Motocross? Rugby?
Think again. More dangerous than any of these activities is the broad category of equestrian sports. From professional thoroughbred jockeys, to agricultural workers, to enthusiastic hobbyists, equestrians deal with risk every time they take the reins. Despite attempts by national equestrian organizations to curb injuries, people who partake in equestrian activities continue to incur high rates of injury due to everything from poor equipment to the unpredictable nature of horses themselves.
A new multidisciplinary project at the University of Kentucky, the Jockey & Equestrian Initiative (JEI), aims to make equestrian sports safer for humans and their horses.
Officially launched October 26, and housed within the UK Sports Medicine Research Institute, the JEI is led by director Dr. Carl Mattacola, University of Kentucky College of Health Sciences, and associate director Dr. Kimberly I. Tumlin, University of Kentucky  College of Public Health.
"The mission of the JEI is to be the premier resource conducting jockey and equestrian protection, safety, and performance research," said Dr. Mattacola. "We will focus on the musculoskeletal, physiological, neurocognitive, and nutritional needs of the rider to optimize performance and athletic recovery of jockeys and equestrians"
JEI research will be focused on three areas: (1) characterizing musculoskeletal and biomechanical profiles of professional and non-professional jockeys and equestrians; (2) providing evidence-based clinical policy recommendations for evaluation, rehabilitation and recovery following riding-related concussions; and (3) creating novel, innovative methods of characterizing risks for equestrian sports-professions.
A truly multidisciplinary effort, the JEI will bring together researchers from across UK's academic and health care campuses, along with community stakeholders, to integrate clinical sports medicine into consistent practices that support the health and well-being of equestrians of all ages and demographics throughout the national and international equestrian community.
"Jockeys and riders are inherently at risk, participating in a sport where injury rates are high, safety equipment is often inadequate, and adoption of safer behaviors is frequently inconsistent," Dr. Tumlin said. "But systems and policy to support safe sport practices are emerging, with the JEI in the forefront of an effort to build sustainability of health and safety among equestrians."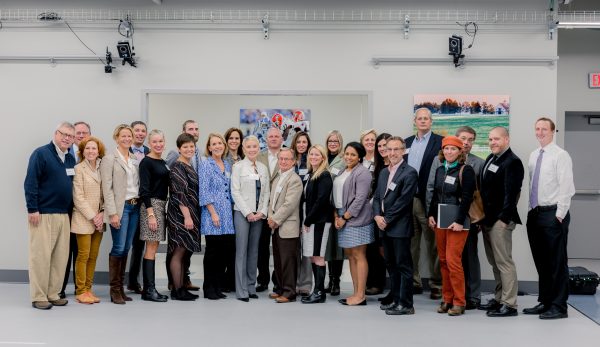 [Photo: Jocky and Equestrian Initiative (JEI) Team]