How might a widely-prescribed nerve pain medication be contributing to the epidemic of opioid-related deaths? A new multi-site study and resulting publication by lead author Dr. Svetla Slavova, of the University of Kentucky College of Public Health and the Kentucky Injury Prevention and Research Center (a bona fide agent of the Kentucky Department for Public Health) is intended to raise awareness among public health and safety professionals in the U.S. and other countries about the possible intentional use and misuse of gabapentin in populations with substance use disorders, and to highlight the need to monitor the involvement of gabapentin in drug overdose deaths. The publication, "Prevalence of gabapentin in drug overdose postmortem toxicology testing results," appears in the journal Drug and Alcohol Dependence. Dr. Terry Bunn, KIPRC director, is a co-author on the publication.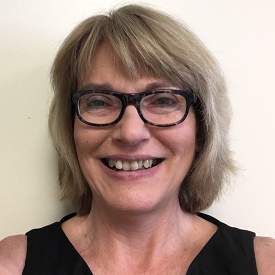 [Photo: Dr. Svetla Slavova (left) and Dr. Terry Bunn]
Gabapentin is a widely-prescribed anticonvulsant and nerve pain medication. The number of gabapentin prescriptions in the U.S. nearly doubled from 33 million in 2011 to 57 million in 2015, making gabapentin the 11th most prescribed medication in 2015. Among the commercially-insured U.S. population, approximately 2.3 percent of the beneficiaries had at least one gabapentin prescription in 2014 – with many more prescriptions issued to women than men. Many uses of gabapentin are off-label.
Because gabapentin use is so widespread, it often appears in the toxicology screens of those who die of opioid overdoses, but the relation between gabapentin use and opioids is unclear. Past research has found that moderate or high doses of gabapentin increased the odds of a fatal opioid overdose by 60 percent compared to those without concomitant gabapentin and opioid use. A previous systematic review of gabapentin misuse, abuse, and diversion found evidence that suggested gabapentin was misused intentionally, especially among individuals with a known history of drug abuse.
The goal of the study was to establish and compare baseline data on the prevalence of gabapentin identified through postmortem toxicology testing among drug overdose decedents in several geographically diverse states or jurisdictions with differing levels of drug overdose fatality burdens in 2015.
Investigators used death certificates and postmortem toxicology result reports from five US jurisdictions to identify residents who died from drug overdoses in year 2015, and to calculate prevalence rates of gabapentin in postmortem toxicology by jurisdiction. They found that among the drug overdose decedents who tested positive for opioids (including heroin), 26 percent also tested positive for gabapentin, with significant variation among states/jurisdictions. On average, 22 percent of all drug overdose decedents in the study tested positive for gabapentin; the percentage of gabapentin-positive overdose deaths varied significantly among jurisdictions: 4 percent in Northeast Tennessee, 7 percent in Maricopa County, 15 percent in West Virginia, 20 percent in North Carolina, and 41 percent in Kentucky. There was a significant difference in the gender distribution among drug overdose decedents who tested positive for gabapentin (46 percent male) vs. those who tested negative for gabapentin (65 percent male). In Kentucky, gabapentin was listed as a contributing drug on the death certificate in 40 percent of the overdose deaths with gabapentin-positive toxicology; in North Carolina this percentage was 57 percent.
The authors conclude that routine gabapentin postmortem testing and linking of data from death certificates, medical examiners, coroners, toxicology, and prescription history will provide more reliable information on the extent of gabapentin misuse, diversion, and implications for clinical care.