Dr. Stephen Thomas, director of the University of Maryland School of Public Health's Maryland Center for Health Equity (M-CHE), addressed the United States Chamber of Commerce at their annual workplace and community wellness forum, introducing them to an initiative that disseminates important health information via neighborhood barbershops.
The Chamber met to discuss significant factors that impact U.S. workforce productivity, as well as affordable health care and quality of life. At their meeting, they looked at ways to reduce escalating costs and improve workplace wellness, with a variety of innovative programs.
In a panel moderated by Dr. Christina Stasiuk, the clinical leader for Cigna's Health Equity Council, Dr. Thomas presented M-CHE's Health Advocates In-Reach & Research (HAIR) initiative, together with Hyattsville, MD barber, Mr. Fred Spry.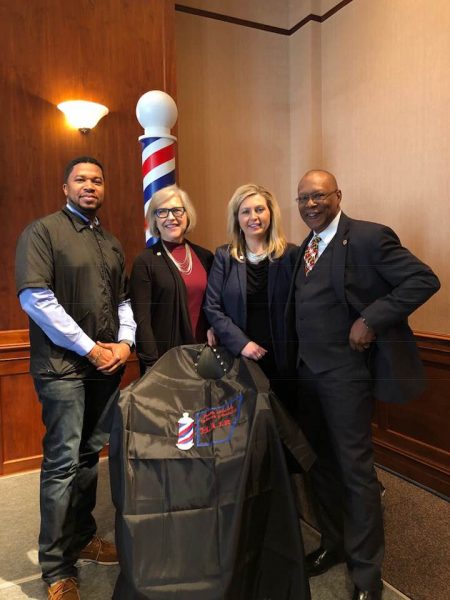 [Photo: (left to right) Barber Mr. Fred Spry, Cigna's Dr. Christina Stasiuk and Ms. Monica Schmund, and Dr. Stephen Thomas from the University of Maryland SPH]
The aim of HAIR is to create an infrastructure to engage barbershops and beauty salons as culturally relevant portals for health education and delivery of public health and medical services in the community. In a partnership with the Cigna Foundation, HAIR network shops promote colorectal cancer screening and increased awareness about colorectal cancer, a leading cause of disability and premature death in the African American community.
Dr. Thomas and Mr. Spry immersed the audience in a real barbershop experience. Dr. Thomas played the part of a customer in a real barber chair, while Mr. Spry demonstrated how a typical conversation might go in his shop, with one of his own customers.
With practiced ease and gentle humor, Mr. Spry guided a discussion about the importance of getting a colorectal screening — a topic many in his chair would rather avoid, understandably. The conversation sounded natural, with Mr. Spry weaving his wellness message into the kind of genuine, easy exchange that might happen in any barbershop.
While the two acted out the scenario, a barber pole stood nearby as an onstage prop. "It was a breath of fresh air in the stagnant world of conference presentations – entertaining, informative, and deeply thought provoking," said Dr. Brian Davey, director of the Health Services Department at the World Bank.
"The aim is to break out of the typical panel presentation model and take the audience into the shop, if only vicariously," Dr. Thomas says. The two did this presentation at a Cigna grantee meeting in Boston, "and it was a smashing success."