The University of Maryland School of Public Health has convened a group to take informed action on public health crises, beginning with gun violence. At its first meeting, a dozen concerned faculty, staff and students met to discuss visions and goals of the group.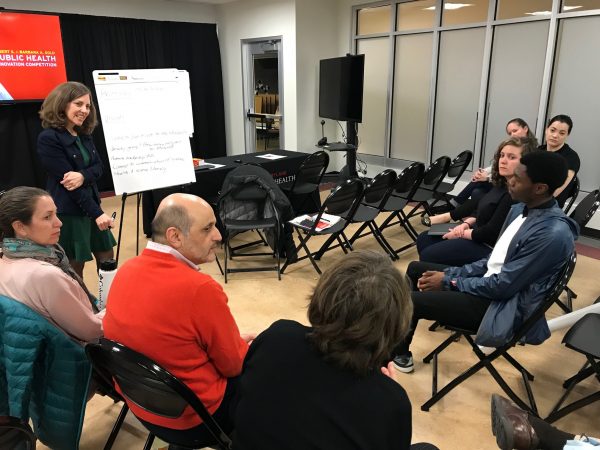 Dr. Cynthia Baur, director of the Herschel S. Horowitz Center for Health Literacy, said, "What we want to do is facilitate productive, fact-based conversations." She also said they should recognize that the issue of gun violence includes mass shootings like the recent one in Florida; it also includes ongoing street violence and the flood of guns on American streets. She asked the group to consider whether they are addressing the multiple facets of the problem, or focusing on just one.
Ms. Sara Olsen, a PhD candidate in the SPH Department of Behavioral and Community Health and a 17-year Navy combat veteran, acknowledged that many of those in her social circle would not be a part of this meeting, assuming that a group like this one would have an agenda with a strong and emotional bias against gun owners.
"We need to go to those opposed to change," she urged, noting that it would be more productive to speak in terms of responsible gun ownership. "What makes you a responsible gun owner?" she said the group should be asking. "Let's flip the conversation to, 'how do we make everybody look like you?'"
Chinedu Nwabuisi, a junior in the SPH Public Health Science program, said "We must find ways to bring different groups together, like responsible gun owners need to talk to those who think guns should be banned."
SPH Dean Boris Lushniak asked, "How do we set up an environment where people can feel comfortable?"
The group was inspired by recent gun violence tragedies, and also by Dean Lushniak's testimony last month before the Maryland state legislature in favor of a bill to institute Weapon-Free Higher Education Zones.
Dean Lushniak said in his testimony, "As public health professionals, we know that scientific evidence supports HB 904 and codifying the prohibitions of guns on Maryland's public institutions of higher education, because we know that prevention of suicide and gun violence is of paramount importance to the health of our students and our campus communities. We know from other successful public health campaigns that changing individual behavior can be very difficult. However, changing the environment and changing laws can address a public health problem effectively. In this case, HB 904 will help to prevent suicide and gun violence against others by reducing the availability of these lethal weapons on our college campuses. It is not the only solution, for certain, but it is a critical one that enables our educational institutions to greatly improve safety and security on our campuses."