University of Maryland School of Public Health PhD candidate Ms. Deanna Barath has been selected as one of this year's AcademyHealth Diversity Scholars Network Recipients.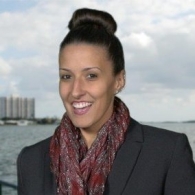 [Photo: Ms. Deanna Barath]
The selective and prestigious program funds travel and registration to attend the group's annual research meeting, pre-meeting methods workshops and an interest group pre-conference session of the scholar's choice.
One of the network's core components is mentoring, and it supports the professional development of underrepresented racial and ethnic minority groups in the field of health services research.
Ms. Barath will be presenting her paper titled, "Integrating Local Health Departments to Reduce Suicidal Ideation and Intentional Self-Inflicted Injuries Among People with Substance Abuse Disorders" at a pre-conference session and at the conference's poster session. She will also be presenting a poster on a rural health report that she helped to produce at the SPH titled, "Navigating an Enhanced Rural Health Model for Maryland."
"I'm incredibly honored to be part of the AcademyHealth Diversity Scholars Network. Attending and presenting at research conferences is a big part of my career development plan but the financial burden is often a barrier," she said. "The travel support included in this award will help me get to Seattle, WA this summer to present my research."
In fall of 2017, the Robert Wood Johnson Foundation announced she was one of 40 students awarded a four-year fellowship through the foundation's Health Policy Research Scholars program.
Ms. Barath has served as the project coordinator for a rural health community assessment in Maryland. She is currently a University Senator and research assistant in Dr. Jie Chen's "Hospital And Public health interdisciPlinarY research" (HAPPY) Lab.
Ms. Barath received her Master of Public Health and Bachelor of Exercise Science degrees from Florida State University, earned a Six Sigma Green Belt certification from the Florida Sterling Council, and is a trained facilitator.