American life expectancy is dropping significantly.
That's the message University of Maryland School of Public Health's Dr. Andrew Fenelon had for a standing room-only crowd of legislators and staffers on April 9 in Washington D.C.
Americans, on average, live two to three years less than other people in similar nations, Dr. Fenelon said. The U.S. is ranked 26th in the world in terms of life expectancy.
"U.S. life expectancy has fallen behind its comparison countries and it's unclear how we're going to catch up," he said.
Dr. Fenelon, an assistant professor in the department of health services administration, spoke on an expert panel that included Dr. John Hagga of the National Institute on Aging and Dr. Shannon Monnat of Syracuse University.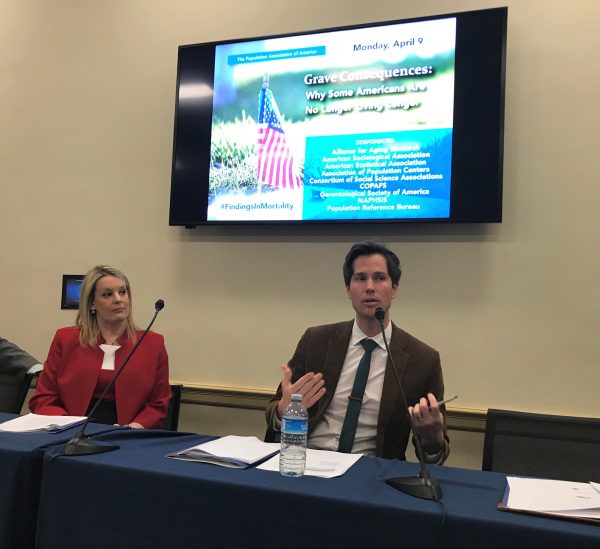 [Photo: Dr. Andrew Fenelon]
Dr. Fenelon and other panelists discussed how their research into life expectancy, and why it is declining, could have potential policy implications.
The event, organized by Population Association of America, was called Grave Consequences: Why Some Americans are No Longer Living Longer. It was also cosponsored by groups including the Alliance for Aging Research, the American Sociological Association, American Statistical Association, the Association of Population Centers and the Population Reference Bureau.
Moderated by Dr. Mark Mather of the Population Reference Bureau, the discussion touched on societal conditions like cigarette smoking, opioid use and social isolation, and how those factors shape U.S. mortality rates.
In the last three to four decades, adult life expectancy has dropped in southern states while it increased in east coast states. In states from Maryland all the way up to Massachusetts, life expectancy has increased, Dr. Fenelon said.
Some of the downturn in the South can be attributed to risk factors like cigarette smoking, but state laws and a lack of programs helping people quit can also be blamed.
The U.S. spends a lot on the healthcare of its citizens, but all that money may not make the country healthier. Lawmakers could direct some funds to social programs like income support for low-income families or on affordable housing to improve health, Dr. Fenelon said.
"Pretty much any policy, even if it's not related to the healthcare system, is going to have health implications," he said. "And that needs to be part of the calculus when making these decisions."