Dr. Devon Payne-Sturges, assistant professor in the University of Maryland School of Public Health, was selected to serve as a member of the multidisciplinary steering committee for the newly formed Environmental Health Matters Initiative.
The initiative is led by the National Academies of Sciences, Engineering, and Medicine (NASEM) and aims to transform how the nation addresses the complex issues associated with environmental health by convening experts and leaders across a variety of sectors, disciplines and entities "to explore the latest science, identify promising solutions and create innovative pathways toward improving environmental health."
In alignment with this aim, Dr. Devon Payne-Sturges' research focuses on racial and economic disparities in environmental health. Ultimately, Dr. Devon Payne-Sturges' goal is to help improve the science our society uses to make decisions about environmental policies that impact the health of our most vulnerable communities and populations.
"I am excited about this initiative because of the focus on solutions. In environmental health, we are very good at assessing and identifying problems but not as good at developing solutions, especially for complex environmental health issues such as cumulative risk, climate change or how we allow children to still be exposed to lead."
The Environmental Health Matters Initiative steering committee was selected through a nationwide nomination process. Members of the steering committee will work to:
Create cross-sectoral analysis and trans-disciplinary understanding of environmental health needs and challenges.
Inform and assist leaders in public and private sectors to improve human health by preventing disease and other adverse health impacts related to the wide variety of environmental exposures and stressors.
Catalyze the development of innovative and comprehensive solutions to environmental health problems.
Facilitate timely and relevant communication to meet the needs of different audiences.
Inform urgent decision making.
"I hope to encourage a more systems approach for environmental health decision making that embraces complexity. We have many examples of problems that have not improved such as social inequities in pollution exposures or examples of regrettable substitutions (chemicals). I call this policy resistance. I'd like to us to move away from reductionist approaches to decision-making given that environmental health is influenced by multiple interacting factors."
Dr. Payne-Sturges is an assistant professor in the Maryland Institute for Applied Environmental Health at the University of Maryland School of Public Health. In addition to her leadership role on this NASEM steering committee, she also plays a role in Project TENDR (Targeting Environmental Neuro-Development Risks) a national consortium of leading scientists, health professionals and children's and environmental advocates where she serves as the co-chair of the air pollution working group.
She previously served as the assistant commissioner for environmental health with the Baltimore City Health Department and as the assistant center director for human health with U.S. Environmental Protection Agency's National Center for Environmental Research. Dr. Payne-Sturges recently completed a Fulbright Senior Specialist project with Hochschule für Gesundheit – University of Applied Sciences in Bochum, Germany on cumulative risk assessment and environmental justice. She is currently funded on a Mentored Research Scientist Development Award (K01) from National Institute of Environmental Health Sciences to study how combined exposure to environmental and social stressors affects child neurological development.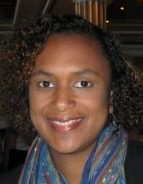 [Photo: Dr. Payne-Sturges]