Students that sent sexually suggestive messages online before having sex for the first time were more likely to have multiple sex partners, unprotected sex, sex after using alcohol or drugs, unwanted sex and intimate partner abuse, a new study published in Health Behavior and Policy Review found.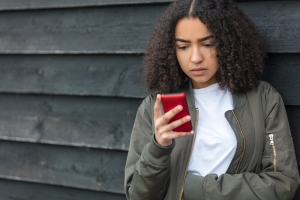 This could put them at risk for sexually transmitted infections like HIV, and for sexual abuse, said behavioral and community health professor Dr. Bradley O. Boekeloo, the study's lead author. The study was co-authored by doctoral student Ms. Meleah Boyle at the Maryland Institute for Applied Environmental Health, and Ms. Sylvia Quinton and Dr. Benita Rashaw of the University of Maryland Eastern Shore.
Sexting can include sexually explicit texts and is often defined as the creation and transmission of nude, sexually explicit, or suggestive images via mobile phone or Internet social-networking sites.
An analysis of 213 first-year student surveys at a rural mid-Atlantic Historically Black College found that about a third of respondents engaged in sexting before having sex for the first time with each other.
Communicating with a potential partner online or over text message has become more common among college students. And sending messages or photos could be used to facilitate "hook-ups."
"It could be that people have met online, but have not ever met face-to-face before," Dr. Boekeloo said. "And if that's the case, they may have little opportunity to develop or lay the grounds for safer sex."
Recent studies have not identified an exact figure but generally conclude that at least 35 percent to 45 percent of young adults engage in sexting.
Sharing sexual images may be done under pressure, as flirtation suggesting the possibility of a sexual encounter, to stimulate sexual interest, and as part of relationship building. It can have a particular impact on the relationship satisfaction of heterosexual women, especially when they don't want to respond to a partner's sexts.
If couples are only having limited contact via online communication before having sex, they may not have enough information to judge trust and understand each other's needs. First-time sex presents couples with their first test of sexual compatibility and shared expectations about sexual safety.
"College Student Sexual Risks Associated with First-time Sex with Someone after Sexting Them" was written by Bradley O. Boekeloo, Meleah Boyle, Sylvia Quinton and Benita Rashaw and was published in Health Behavior and Policy Review.