"C.A.T.C.H., the Virus Study" ("Characterizing And Tracking College Health") is the latest in a series of studies making use of a University of Maryland residence hall complex as its living, breathing, coughing, sneezing laboratory. University of Maryland School of Public Health professor Dr. Donald Milton leads the research, which is funded by a $2.5 million cooperative agreement from the Defense Advanced Research Projects Agency (DARPA), following on an initial $1.5 million Defense Advanced Research Projects Agency (DARPA) funded phase-1 study conducted last spring.
The goal is to identify early biomarkers of contagiousness soon after a person is exposed to acute respiratory infection — and before he or she spreads it. Identifying that critical moment would allow isolation and treatment before the virus can be passed along.
"Believe it or not, how people transmit flu and other respiratory illnesses is not well understood," says Dr. Milton, who invented the so-called "Gesundheit machine," a contraption in his SPH lab that collects every breath of under-the-weather students when they report in for testing. Dr. Milton, with the school's Maryland Institute for Environmental Health, has dedicated himself to understanding flu transmission, and through previous studies has shown that the smallest airborne droplets in the breath exhaled from those infected with flu may carry more virus than those in the larger droplets from coughs, and that ­– contrary to popular belief – people with flu rarely sneeze.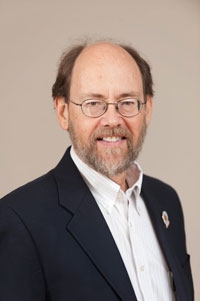 [Photo: Dr. Donald Milton]
Students in a group of residence halls across the street from the UMD School of Public Health, including those in the College Park Scholars' Global Public Health, Life Sciences, and Science Technology and Society programs, and their roommates will be eligible to participate this fall (enrollment will start in November). Last semester, 68 Scholars and other residents of Centreville Hall, signed up and submitted an extensive array of samples: blood, nose and throat swabs, plus hair and nail samples. Students who enroll will agree to report whenever they start to feel a cold or flu over the course of the study. When they do, researchers will collect samples of their viruses in swabs and breath, and monitor their close contacts within the larger community (anyone living in the Cambridge Community residence hall complex) to identify secondary cases. In this way, Dr. Milton's team will identify those who are most and least likely to transmit the virus. These carefully observed flu cases and the chains of their spread through the community will allow researchers to characterize the elements that are most likely to make someone contagious – and to discover useful biomarkers of contagiousness.
Students are tracked with in-person interviews and regular contact with the group — and also with their smartphones. Using an app, "we can track the location on campus of a person's smartphone throughout the day, and by combining the knowledge from such tracking from a group of people we can identify the amount of time each has spent in the close proximity of the other," Dr. Milton explains in the study brief. Location information will be combined with measures of indoor air quality – monitoring started in August – and virus in breath. "We will then use this information as a measure of contact," Dr. Milton said. Researchers will be able to identify potential chains of infection transmission, and to follow up with those potentially affected. They will confirm actual transmission by deep sequencing of viruses in samples from each case.
"It's a unique setup, and I think there are few places in the world that would be able to pull this off," says Col. Matt Hepburn, the U.S. Army doctor who manages DARPA's infectious diseases research portfolio.
Results from an earlier CDC-funded study by Dr. Milton and his team in 2012 – 2013 showed that the average person with influenza sheds copious amounts of virus into the air via airborne droplets, regardless of their coughing and sneezing. Surprisingly, there was no association of sneezing with shedding virus – in fact, people with flu rarely sneezed. Coughing did increase the amount of virus shed, but even people who didn't cough at all still shed plenty of virus. In short: people who are sick shed virus just by breathing.