Newly published research by a team including University of Maryland School of Public Health associate professor Dr. Dylan Roby looks at how community hospitals in Massachusetts are leveraging a public-private partnership with the Massachusetts Health Policy Commission (HPC) to transform care delivery to improve care for complex patient populations.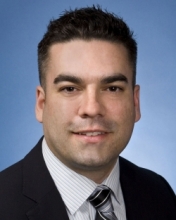 [Photo: Dr. Dylan Roby]
The paper, published in The American Journal of Accountable Care, examines the design and evolution of the first two phases of the HPC's Community Hospital Acceleration, Revitalization, and Transformation (CHART) Investment Program, the state's largest grant program to date focused on readying community hospitals for value-based care.
"Community hospitals are often left behind when it comes to investment and capacity to take on payment reforms, value-based programs, and other endeavors to improve hospital care and coordination," Dr. Roby said. "They don't have the capital to invest and if they see a large proportion of Medicaid or uninsured patients, they may have financial struggles that make it even harder to dedicate resources and attention to improving patient care. The CHART program in Massachusetts was designed to help those community hospitals get over that hump and invest in care coordination, quality improvement, and community partnerships."
Massachusetts has been recognized nationally for its progressive healthcare reform policies, including the 2006 healthcare reform law that established the Massachusetts health insurance exchange and offered many residents free or subsidized insurance. These policies helped the state achieve a 2007 uninsured rate of less than 6 percent among the nonelderly population, the lowest rate in the country, and were associated with lower mortality.
However, healthcare spending continued to grow and by 2009 the state had the highest per capita healthcare expenditures in the nation. Massachusetts also compared poorly to the United States on Medicare readmissions, and approximately half of its emergency department visits were potentially avoidable, according to the paper. The combination of increased prices at large systems and a shift toward use of academic medical centers (versus community hospitals) contributed to rising overall costs.
To address these issues, Massachusetts legislators passed a landmark cost-containment law, which charged the HPC with administering CHART, a phased investment program for community hospitals. In this study, the researchers examine and offer insights on CHART Phases 1 and 2, and provide lessons learned that can be redeployed by other states seeking to transform healthcare delivery among their community hospitals.
"Now that the CHART program is nearing completion, our focus over the next several months is to complete our analyses of all 25 CHART programs, better understand how each program was implemented, and what outcomes they produced," said Dr. Chris Louis, the study's lead author and principal investigator for the CHART evaluation. "We hope it will provide lessons about community hospital redesign and provide evidence to guide other hospitals in similar situations (i.e. community hospitals or under-resourced hospitals providing care to vulnerable, often publicly insured or uninsured patients)."
This research is part of a larger body of work from the University of Maryland and Boston University team looking at hospital redesign and outcomes, which includes this CHART evaluation, New York State's Delivery System Reform Incentive Payment (DSRIP) program, and the impact of other state Medicaid waivers on health care access, quality, and spending.
Transitioning Community Hospitals to Value-Based Care: Lessons From Massachusetts was published in The American Journal of Accountable Care.