Leaders from the University of Maryland School of Public Health were proud to witness the December 1 ground breaking for a new hospital in Prince George's County, Maryland to be part of the new University of Maryland Capital Regional Health system. This event marks a major milestone in the plan to transform health and health care for this county, which is home to a fifth of the state's population and is one of the richest African American-majority counties in the United States.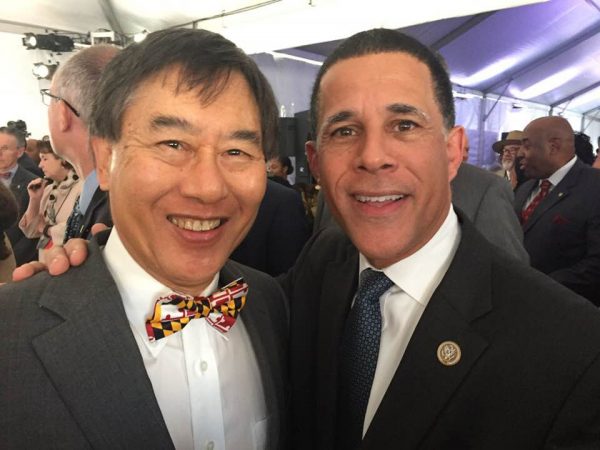 [Photo: UMD President Wallace Loh (left) with Anthony Brown, U.S. Representative for Maryland's 4th congressional district, who initiated the Health Enterprise Zone program during his tenure as former Lt. Governor of Maryland, at the groundbreaking event.]
Through a 2011 memorandum of understanding between Prince George's County, the state of Maryland, the University System of Maryland, and the University of Maryland Medical System (UMMS), the University of Maryland School of Public Health led a comprehensive study to fulfill the need for a "strategy to transform the system into an efficient, effective and financially viable healthcare delivery system with a regional medical center."
An interdisciplinary team of senior UMD School of Public Health researchers, led by Dr. Dushanka Kleinman, associate dean for research, released "Transforming Health in Prince George's County: A Public Health Impact Study" in 2012 with sponsorship from the county, the state health department, UMMS and the then Dimensions Healthcare System. The study's three key recommendations (establish a high-quality academically affiliated regional medical center; develop a county-led process to improve public health and expand access to high-quality primary care and support systems integration; and develop a clear brand that promotes a high-quality health care system) are now well underway.
"We know that the residents of Prince George's County deserve better than having to leave their home county for the health care they seek, and I am confident that this new hospital and the collaborative effort to improve health and health care will make a big difference in the quality of life for all county residents," said Dr. Boris Lushniak, dean of the University of Maryland School of Public Health. "I am proud of the role that our School of Public Health has played in getting us to this point and we are committed to making the vision for a healthier county a reality over the long haul."
This milestone of the creation of a new hospital, and other achievements, has required dedicated commitment and work on behalf of a broad partnership among government, non-profit, private sector and academic entities with active involvement and direction from residents. Collective impact has been the central theme of these efforts.
Since its founding in 2007, the UMD School of Public Health has been invested in Prince George's County's health and welfare. Faculty, students and staff have had the privilege of being involved in major efforts undertaken by the county to address the study's recommendations. Selected examples include the:
"From its very inception, the vision for the new health care system was more than brick and mortar, it was transforming health. It's about health promotion, disease prevention, and wellness services that engage people in the neighborhoods and give them something different," said Dr. Stephen B. Thomas, professor and director of the Maryland Center for Health Equity. "We have the best-educated and wealthiest majority African American population in the country here in Prince George's County. If we get this right, we can really move the needle on health outcomes."
Read more on the University of Maryland Medical System website