A group of six University of Maryland students, accompanied by School of Public Health Research Professor Dr. Dina Borzekowski and UMD affiliate and master educator Ms. Tina Lipscomb, traveled to Sierra Leone in June to continue the work that the UMD Public Health Without Borders (PHWB) group began back in 2014. The ten-day trip was the fourth visit of UMD students to Calaba Town, a community on the Western coast near the country's capital of Freetown.
The student team's main goal for this trip was to strengthen the partnership and relationship with the town's Abigail D. Butcher School, a primary school founded by UMD alumnus and retired NFL player Mr. Madieu Williams, back in 2009. The students aimed to immerse themselves in the Sierra Leonean culture and teach local students and parents about chronic diseases, water sanitation, nutrition and the Ebola outbreak. On their first day in Calaba Town, the students were introduced to over 200 children in kindergarten through the sixth grade by the school's Principal Koroma and Vice Principal Tholley.
"We wanted to spend time getting to know the kids and to build their trust in us," said Ms. Kelsie Challenger, a behavioral and community health major who is entering her sophomore year this fall. "They made us feel like we are heroes coming to help them, but we wanted to empower them and for them to see us as friends and partners."
In the following days, the PHWB students toured the area and talked to many community members, receiving tremendous insight on the day-to-day life of a Sierra Leonean. To do this, the team visited markets, a health clinic, the offices of Partners in Health, a chimpanzee reserve, historic Freetown sites, two beaches, and even attended a church service upon the invitation of the community leaders.
The students led interactive health workshops, focused on topics including nutrition, chronic disease, and water sanitation. They created fun age-appropriate activities, where children not only learned information but also had the opportunity to teach lessons to their classmates. The fun included UMD students teaching school children and the community "Chocobodi," a current dance which is a mix of several popular African dances. "We played the song like 10 times a day! The kids loved it and wanted to do it again and again," Ms. Kelsie said. "It was a lot of fun, but I have to admit I don't want to hear it again for a while!"
The PHWB team identified goals for future action based on what they heard about the community issues around access to health care. Sitting side-by-side, the UMD team and community members discussed strategies and plans to reach tangible and sustainable solutions, including collecting data on disease incidence, prevalence, morbidity, and mortality and determining viable federal agencies and NGOs who could assist in funding and building a community-based health clinic.
"Going to Sierra Leone has changed my perspective about a service trip. Before I thought we had more to give to them, but I learned so much from them," Ms. Kelsie reflected. "It is just a beautiful country and while they have been through a lot, they are so full of life. The culture is just beautiful.  Also, we have so many things we take for granted [as Americans]. Being able to turn on the tap and have clean water come out is a big deal. It has made me be more aware and mindful of these things."
View an album of photos from the current team members' trip.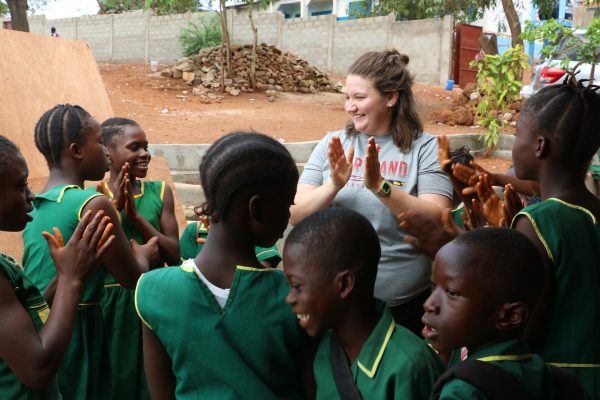 Read about previous PHWB trips to Sierra Leone:
2017
2016
2014