The Master of Health Administration (MHA) program at the University of Memphis School of Public Health has received its second national award in less than a year in recognition for its innovative approach to healthcare leadership development.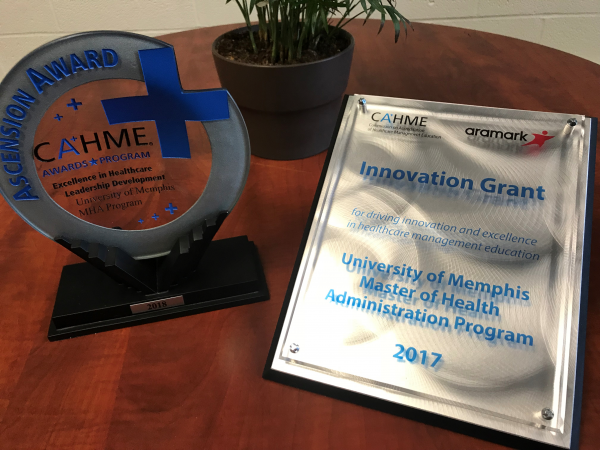 The Memphis MHA program received the CAHME-Ascension Award for Excellence in Healthcare Leadership Development at the CAHME Awards Luncheon in conjunction with the American College of Healthcare Executives annual Congress on Healthcare Leadership in Chicago, IL, March 25. The award includes a $5,000 grant to the program. CAHME is the Commission on Accreditation of Healthcare Management Education.
Dr. Erik Carlton, MHA program director, accepted the award on behalf of the Memphis MHA program noting, "Our MHA program has a foundation of excellence that has been and continues to be built by extraordinary faculty, staff, and students." Dr. Carlton further highlighted the critical role that Memphis' many healthcare organizations have had in developing the program into a national leader. "This award would not be possible without the support of our individual and corporate partners who, through gifts and programs large and small, have provided millions of dollars to our program in support of our leadership development activities."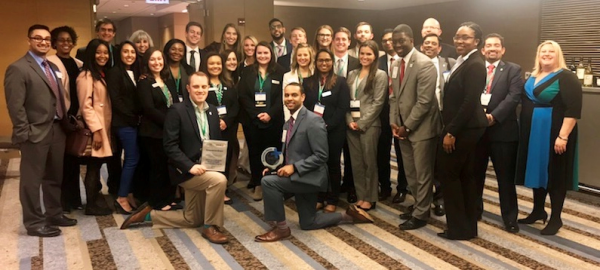 The CAHME-Ascension Award for Excellence in Healthcare Leadership Development was awarded to the University of Memphis MHA Program in recognition of the program's exceptional, comprehensive, and integrative approach to leadership development. The program invests heavily in developing students' leadership competencies by integrating leadership learning throughout the curriculum. The program also provides paid extended internships to nearly every student throughout their course of study. These internships place students in leading local healthcare organizations across Memphis – one of the nation's premiere healthcare hubs.
A hallmark of the Memphis MHA approach to leadership development is the "Day One" program that begins with a leadership and team-building retreat for entering students prior to the start of classes. Day One continues throughout the first year of the program with a series of professional development seminars addressing topics such as professional networking, presentation skills, resume writing, dressing for success, and dining etiquette. This innovative program helps to ensure that Memphis MHA students are among the best-trained and most leader-ready graduates in the country. The program further benefits from deep alumni engagement and several executive adjunct faculty who teach many of the program's core and elective courses, bringing executive-level real-world knowledge to the classroom.
In addition to the CAHME-Ascension Award, the Memphis MHA program also received a CAHME-Aramark Innovation Grant in Fall 2017. This $5,000 grant – the highest for any single program nationally – recognized and sought to further enhance Memphis' approach to student leadership development. The MHA program will use the grant to expand the program's "Day One" professional development program with a "Day Two" seminar series for second year MHA students. Day Two will offer students and increased focus on self-leadership, personal accountability, and interpersonal communication – critical competencies for future healthcare leaders. The innovation grant is also providing support to send MHA students to national case competitions.
Regarding the back-to-back awards received by the Memphis MHA program, Dr. Anthony Stanowski, president & CEO of CAHME, said, "By recognizing programs like the University of Memphis MHA Program, CAHME and its corporate partners seek to not only acknowledge programs and students that are doing great work, but also to encourage advancement across the entire field of graduate healthcare management education. Winning the CAHME/Ascension Award and the CAHME/Aramark Innovation Grant within a single year suggests that the University of Memphis MHA Program is performing on a high level and that performance is being recognized by industry leaders."
Continuously accredited since 1995, the University of Memphis MHA program is graduating its 25th class in May 2018. Alumni can be found leading healthcare organizations in 33 states and four countries and graduates regularly fill nationally-competitive administrative fellowships.
More information about the Memphis MHA program's CAHME-Ascension Award for Excellence in Healthcare Leadership Development
More information about the Memphis MHA program's CAHME-Aramark Innovation Grant