Over the past two decades, lack of funding support and other legislative obstacles have stifled research into the public health effects of gun violence in the United States.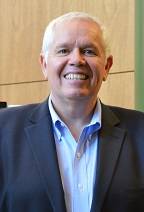 [Photo: Mr. Matthew L. Boulton]
Now, the American Journal of Preventive Medicine (AJPM) is joining other research outlets in an effort to make the journal's published firearms research freely accessible to readers. As of April 5, approximately 40 firearms-related research articles published since 2011 are available for the public to download on the AJPM website, with no subscription necessary.
"Gun violence is a major public health issue in the United States, yet remains understudied due to congressional limits placed on the CDC in conducting surveillance and research on firearm-related injury," said Mr. Matthew L. Boulton, AJPM editor-in-chief and senior associate dean for Global Public Health at the University of Michigan School of Public Health. "The public health community can clearly play a leading role in decreasing injury and deaths from guns, but developing effective interventions to do so will require reducing barriers and increasing support for firearm-related research."
The articles cover a wide range of topics, including suicide and homicide, accidental death, firearms in the media, the firearms industry, firearms and youth, firearms and intimate partner violence, firearms and substance use, and violent crime. Also included are articles from a Centers for Disease Control and Prevention (CDC)-sponsored supplement issue, including research on fatal shootings both of and by police officers.
This initiative is being done in conjunction with National Public Health Week and in response to the spike in national attention to gun violence in the wake of recent tragedies. It is part of a broader initiative by health and science researchers to support research on critical public health topics, including firearms.