An article by Dr. Rebecca L. Haffajee, and colleagues from the University of Michigan School of Public Health in a special supplement to the American Journal of Preventive Medicine focusing on behavioral health human resources highlights some of the policy considerations important in trying to address the opioid crisis workforce and overcoming barriers to the provision of buprenorphine, a highly effective medication-assisted treatment for opioid use disorders.
"At least 2.3 million people in the U.S. have an opioid use disorder, less than 40 percent of whom receive evidence-based treatment," explains Dr. Haffajee. "Buprenorphine has high potential to address this gap because of its approval for use in non-specialty outpatient settings, effectiveness at promoting abstinence, and cost-effectiveness. However, significant obstacles to expanding access remain. Less than 4 percent of licensed physicians are approved to prescribe buprenorphine for opioid use disorder, and almost half of counties lack a buprenorphine-waivered physician."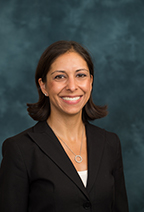 [Photo attached: Dr. Rebecca Haffajee]
Dr. Haffajee and colleagues propose specific policies to address workforce barriers in several domains such as insufficient training and experience; lack of institutional and peer support; poor care coordination; stigma; and burdensome reimbursement and regulatory procedures.
Significant recommendations include eliminating the national waiver process for qualified buprenorphine prescribers, replacing it instead with robust training from graduate education throughout practice. They also recommend incentives for providers to regularly prescribe buprenorphine, especially in rural areas of high need, such as loan repayment programs. Finally, they suggest that reimbursement models adjust to comprehensively cover buprenorphine and related treatment.
"These proposals are critical given our current opioid epidemic, which claimed over 42,000 lives in 2016," says Dr. Haffajee. "There is increasing political will to devote resources towards treating opioid addiction. But the resources need to be allocated intelligently to truly mitigate the epidemic and improve the lives of people with opioid use disorders and their communities."