For decades, health researchers from the US and other developed countries have traveled to developing countries, extracted data, and returned home to publish their findings in respected journals. But, with funders like the NIH requiring direct collaboration with in-country researchers, this model has shifted in recent years. Still, many researchers in low- and middle-income countries remain dependent on their colleagues from developed countries to write funding proposals and author papers.
"The issue is that most of the high-impact publications—and, therefore, most of the credit—are attributed to researchers from high-income countries," says Dr. Ella August, clinical assistant professor of epidemiology at the University of Michigan School of Public Health. "There is a tremendous need for researchers in low- and middle-income countries to develop writing and publishing expertise."
With this in mind, Dr. August launched the Pre-Publication Support Service (PREPSS) in the fall of 2017. With a team of volunteer peer reviewers and editors, PREPSS helps researchers from developing countries prepare their original manuscripts for acceptance to peer-reviewed journals.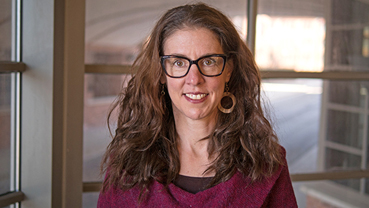 [Photo: Dr. Ella August]
Dr. August, who is as passionate about good writing as she is about public health, has been hosting writing workshops for researchers in developing countries for more than three years. "I realized we needed to take it a step further," she says. "While the workshops were helpful, these researchers do not have access to the follow-up support needed to fully develop their submissions to the point of being competitive in a peer-reviewed journal."
Dr. Jim Trostle, advisor to PREPSS, notes that researchers in developing countries face several barriers to getting their findings out to the broader scientific community. "This system of scientific communication has very high entry costs, including language fluency, bibliographic resources, understanding conventions of publishing like responding to reviews, and writing good letters of submission," says Dr. Trostle, who is professor of anthropology at Trinity College in Hartford, Connecticut. "These researchers face barriers we have imposed upon their abilities to get their knowledge out. PREPSS is partly designed to redress that exclusion."
PREPSS also positions itself to help researchers avoid some pitfalls in academic publishing. "This model stands in direct opposition to so-called 'predatory publishers,' who charge authors to publish but then provide no peer reviews and no editing services," Dr. Trostle says.
Mr. Peter DeJonge is one of several Michigan Public Health doctoral students working with August on PREPSS. "I'm surprised this didn't exist before," he says. "It's a real contribution that the school can make, both to these developing countries and to knowledge here—by helping get this important work into internationally distributed journals."
How It Works
Researchers identify a journal in which they hope to publish their work and submit a draft cover letter and manuscript in the target journal's format to PREPSS. Dr. August assigns the paper to a member of her peer reviewer team, and the reviewer provides feedback to the researcher. The researcher makes revisions and resubmits the manuscript for another round of peer review, if needed. Then, the paper goes to a copy editor, who provides editorial and English-language editing assistance on the revised manuscript.
There is no fee to the researchers. The project is funded with a variety of pilot funding sources, including the University of Michigan Center for International Reproductive Health Training (CIRHT) and the University of Michigan Institute for Research on Women and Gender.
To date, PREPSS has worked with nine researchers, six from Ethiopia and three from Ghana.
Dr. Kiros Terefe Gashaye, assistant professor of obstetrics and gynecology at the University of Gondar in Ethiopia, is among the first group of researchers working with PREPSS. Dr. Gashaye met August at a writing workshop she led in Addis Ababa, Ethiopia, in 2017.
Dr. Gashaye investigates the use of different types of contraception methods in Ethiopia. A paper he is planning to submit to the journal PLOS ONE is currently with the PREPSS team for peer review and feedback.
"I am new to research output publication—just a beginner," he says. "I expect the possibility of rejection due to a lack of full understanding of the publication process as well as a possible lack of clarity in my work. The PREPSS reviewers will look at my manuscript and suggest clarifications. PREPSS copy editors will check for grammatical errors, since English is my second language."
Dr. Gashaye says he is optimistic about the process and its potential impact on him and fellow researchers: "I am hoping this will address some of our biggest challenges and motivate us to do more research."
A Valuable Experience for Students
To date, Dr. August has recruited and trained 43 peer reviewers, including several faculty and PhD students from Michigan Public Health. She is especially excited about getting students involved in this project.
"The training is aimed to make the students become better peer reviewers," Dr. August says. "But in the process, they really become better researchers and writers."
Michigan Public Health doctoral student Ms. Deepti Bettampadi, who is from India, said she has heard about colleagues in India having difficulty publishing in international journals. That's part of what inspired her to get involved in PREPSS.
Ms. Bettampadi says the experience has not only taught her more about the peer review process but has also made her more open to feedback that she receives on her own work.
"Learning how to give clear, constructive feedback has helped me better understand how others perceive what I write," she says. "I recently sent a manuscript to several people to review, and I think now I'm more receptive to their feedback, which is helping me improve my writing overall."
Mr. DeJonge says he appreciates the opportunity to gain peer reviewing experience as a PhD student. With an interest in global public health, he is also inspired by the mission of PREPSS.
"It's not our place to go into developing countries and set up research projects without involving local professionals," Mr. DeJonge says. "First, it's not ethical. But also these researchers bring to the table ideas and a cultural awareness that we do not possess."
Scalability and Growth
To expand the reach of PREPSS in a sustainable way, Dr. August has partnered with the CIRHT, which is currently working with reproductive health researchers in Ethiopia and Rwanda, to offer access to the PREPSS service.
Currently, the PREPSS service is available by invitation only, but Dr. August plans to eventually open it up to researchers who seek out these services. She hopes that by the end of 2018, she and her team can create the efficiencies needed to scale up to accommodate potential increased demand for their services.
While the current focus of PREPSS is on public health research, Dr. August says she hopes this model will eventually extend to other disciplines, whether under the PREPSS platform or through other programs.
"These researchers understand what questions to ask," Dr. August says. "As outsiders, we don't have the rich, contextual knowledge that an in-country researcher has. We're missing out on that if we don't support researchers with the training they need to publish their own research."
Read more here.