Dr. Alison Mondul, assistant professor of epidemiology at the University of Michigan School of Public Health, has been named among the Best of the American Association for Cancer Research (AACR) Journal collection by the AACR.
The Best of the AACR Journals connection highlights the most-cited articles published in 2016 across the AACR journals. Dr. Mondul was recognized for her article "Circulating 25-Hydroxyvitamin D and Prostate Cancer Survival."
Dr. Mondul is a cancer epidemiologist who studies the role of modifiable risk factors in the etiology of cancer. Her main focus is how diet, nutrition, and other lifestyle factors, such as use of common medications, may influence cancer incidence and mortality. She is also interested in understanding how genetic factors may contribute to, or modify, these associations.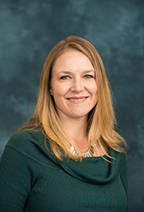 [Photo : Dr. Alison Mondul]