Dr. Cleopatra H. Caldwell, professor and chair of health behavior and health education and director of the Center for Research on Ethnicity, Culture, and Health (CRECH) at the University of Michigan School of Public Health, was awarded the 2018 Community Support Award by Peer Plus Education and Training Advocates at their 7th Annual Fundraiser on Saturday, November 10, 2018 in Chicago.
Dr. Caldwell was selected to receive the award for the outstanding work that she has accomplished with African American communities and families by way of the Fathers and Sons study. Mrs. Phyllis L. Rodgers, founder and president of Peer Plus Education and Training Advocates, along with her husband, Mr. Bruce Rodgers, presented Dr. Caldwell with the award. Dr. Caldwell recognized the need for such a study to be conducted in Chicago and, in order to address that need, she started the Chicago Fathers and Sons study.
Dr. Caldwell is known for her research on the influence of social relationships and social identities on the health and well being of African American adolescents, including the role of parental support, racial discrimination, and racial identity as risk or protective factors for depression, violence, and substance use. Her current research focuses on evaluating the long-term effects of the culturally specific Fathers and Sons Program for enhancing parenting among nonresident African American fathers to prevent youth risky behaviors, while reducing depression and substance abuse and enhancing mental health service use among fathers.
Peer Plus Education and Training Advocates identifies underserved populations in the Midwest area and provides culturally sensitive programs that address the multifaceted issues of people in need of essential health, educational, and psychosocial services.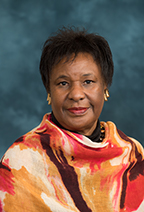 [Photo: Dr. Cleopatra H. Caldwell]