Unlike most Michigan residents, African-Americans living in the Great Lakes State report a decline in mental health as their socioeconomic status rises, according to a University of Michigan study.
Structural racism, interpersonal discrimination, higher psychological costs of upward social mobility and residential segregation all contribute to the diminished gains in self-reported mental health, says lead author Dr. Shervin Assari, research assistant professor at the Center for Research on Ethnicity, Culture, and Health in the University of Michigan School of Public Health.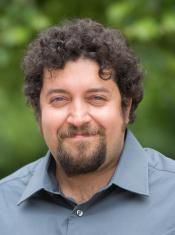 [Photo: Dr. Shervin Assari]
"Given my previous research, I am not shocked by the results," Dr. Assari said. "I have seen high-economic-status blacks being more depressed and reporting more discrimination. This is not shocking to me, but it is extremely bad news for the country as well as for the state. You expect social economic status to protect you. You expect income to equally protect all populations, but that is not what you find at the national level and not in Michigan, either."
Dr. Assari's study, published in Behavioral Sciences, utilized data from Michigan's 2017 State of the State Survey conducted by the Institute for Public Policy and Social Research at Michigan State University. For the survey, participants must be over 18 years old, speak English, reside in Michigan and not be institutionalized.
The study included a sample of about 1,000 participants and looked at how self-reported mental health changed across 11 income levels. In general, self-reported mental health increased as people moved up socioeconomic levels.
"Equal access to resources does not result in equal outcome because of the racism minorities who have access to the resources are experiencing," Dr. Assari said. "The group is climbing the social ladder but is still depressed. It changes the direction of the blaming arrow from the victim to the structural racism they have to live in."
Dr. Assari is also a research assistant professor of psychiatry at Michigan Medicine. Study co-authors include Dr. Lisa Lapeyrouse, assistant professor of health education at the University of Michigan-Flint, and Dr. Harold Neighbors, professor emeritus of health behavior and health education at the University of Michigan School of Public Health and a C.S. Mott Endowed Professor of Public Health at the Michigan State University College of Human Medicine's Flint campus.