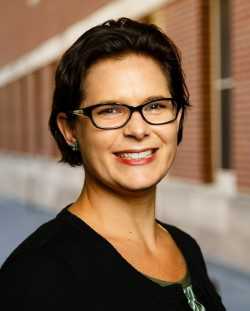 [Photo: Dr. Katy Kozhimannil]
University of Minnesota School of Public Health associate professor Dr. Katy Kozhimannil received the 2017 Carol Weisman and Gary Chase Gender Based Award for the top abstract in Women's Health at the AcademyHealth Annual Research Meeting. Dr. Kozhimannil's abstract was titled "Maternal Opioid Use Disorder Among Rural Residents Giving Birth at Rural, Urban Teaching and Urban Non-Teaching Hospitals." The abstract is based on research into rural-urban differences in opioid-affected pregnancies and births being conducted by the School of Public Health Rural Health Research Center.
Dr. Kozhimannil is the director of the Rural Health Research Center, which pursues policy-relevant research to improve the lives of rural residents and families, to advance health equity, and to enhance the vitality of rural communities.