A DrPH student from the University of North Texas Health Science Center School of Public Health (UNTHSC) has received two national awards in recent months for her work at UT Southwestern Medical Center (UTSW), Dallas.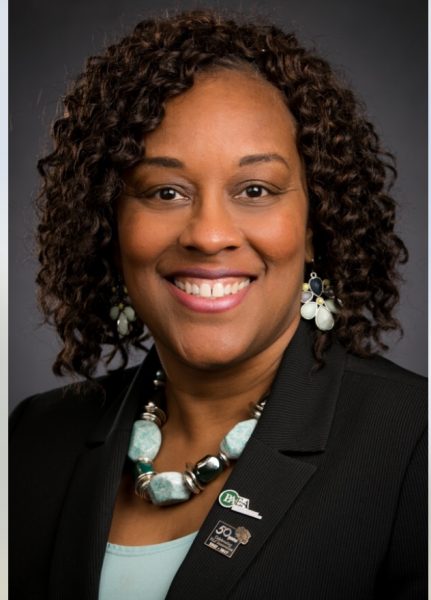 [Photo: Ms. Carolyn Bradley-Guidry]
Ms. Carolyn Bradley-Guidry, who plans to complete her degree from UNTHSC in 2019, is an assistant professor of Physician Assistant (PA) Studies in the UTSW School of Health Professions as well as the director of Diversity and Inclusion for all of the UTSW School of Health Professions, which includes PA Studies, Physical Therapy, Clinical Nutrition, Clinical Rehabilitation Counseling, Radiation Therapy and Prosthetics/Orthotics.
After leading the UTSW department of PA studies to national recognition with the Diversity Through Excellence Award from the Physician Assistant Education Association Education last fall, Ms. Bradley-Guidry has now been honored, along with Dr. Shawna Nesbitt, for the 2017 Outstanding Physician-PA Partnership of the Year Award from the Texas Academy of Physician Assistants.
Dr. Nesbitt serves as professor of internal medicine and associate dean for Student Diversity and Inclusion at UTSW. The partnership between Ms. Bradley-Guidry and Dr. Nesbitt has two aspects, clinical and administrative.
Clinically, the two work together in the specialty Hypertension Clinic of the UT Southwestern Clinical Heart Center, focusing on managing medically-complex patients with resistant and/or secondary forms of hypertension.
Nominations for this award highlighted that the PA-physician partnership between Ms. Bradley-Guidry and Dr. Nesbitt "exemplifies what a provider team should be."
"They value and respect each other's profession and role, they have provided professional service by sharing their knowledge of hypertension to providers in Texas, they work together to build diversity in both professions, and they provide service to the community. They are outstanding role models for the next generation of PAs and physicians," the nomination said.
Dr. Dennis Thombs, UNTHSC School of Public Health Dean said, "It is very exciting to see our students working to improve patients' health and demonstrating such a commitment to diversity and inclusion in this way. These partnerships and honors represent important strides aligning with the values of public health and creating healthier communities, and we congratulate Carolyn Bradley-Guidry on her accomplishments."