Thought leaders from around the country recently joined forces at the University of North Texas Health Science Center (UNTHSC) to brainstorm on new approaches for controlling an ages old health risk.
"A century ago, my grandmother lost her sister, mother and grandfather to tuberculosis," said Dr. Thaddeus Miller, UNTHSC School of Public Health associate professor and principal investigator of the North Texas Tuberculosis Epidemiologic Studies Consortium (TBESC), one of the CDC's 10 such TB research sites in the U.S. "Through rigorous domestic public health programs, including a focus on latent TB cases, the United States has been largely protected in recent decades. But this protection, as well as new and emerging threats, shouldn't be taken for granted until we are able to see TB only in our past and not our future."
Leaders from the Centers for Disease Control and Prevention (CDC) Division of Tuberculosis Elimination came together with healthcare executives and others from across the United States for a Systems Thinking Symposium.  The day was an example of the power of interprofessional collaboration, with professionals from many disciplines working together to spur innovation and coordination among public and private healthcare systems.  Bringing together and harnessing the expertise of such a diverse set of thinkers in this way may be key to more effectively leveraging the U.S. commercial healthcare sector against the persistent threat of TB, Dr. Miller and collaborators said.
Participants from across Texas and other states brought perspectives representing academia and research, healthcare, state and federal health agency oversight, private and public provider organizations, the managed care industry and others.
The topic of latent TB infection (LTBI) was of special interest at the event.  People can carry LTBI and not even know it, with the infection lying dormant for years or even decades, Dr. Miller said.
"During this latent stage, TB is not infectious, has no symptoms and can't be passed on to others, but it is estimated that anywhere from five to 10 percent of people with LTBI will develop active TB at some point in their lifetime," Dr. Miller said.  "This is especially concerning given CDC estimates that as many as 13 million people in the U.S. have LTBI."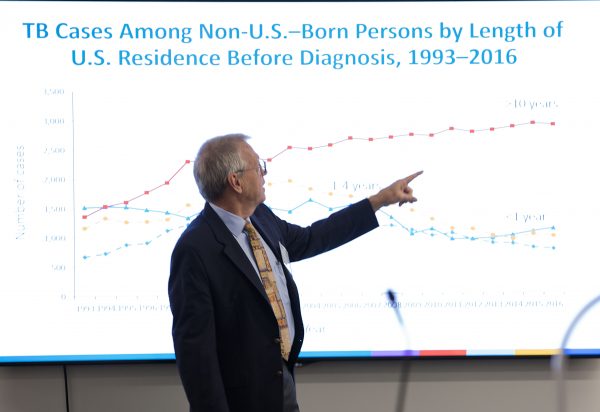 On a larger scale, about one-fourth of the world's population has LTBI. LTBI is more prevalent in certain countries, and states in the U.S. with high populations of foreign-born individuals, like Texas, California, New York and Florida, may be at higher risk for the potential of active TB among residents. Foreign-born populations account for nearly 70 percent of active TB cases in the U.S., and the LTBI prevalence is about 13 times higher among these groups.
"LTBI is treatable and can usually stop the development of active tuberculosis," Dr. Miller said. "Public health officials and the CDC agree that to solve this problem, private sector health providers and influencers must be engaged, to work side by side with the public health system in testing and treatment."
"The public health system does not have the capacity to address this alone," said Dr. Thomas R. Navin, Chief of the CDC's TB Surveillance, Epidemiology and Outbreak Investigations Branch, who opened the symposium at UNTHSC.
"TB-related care, including testing and treatment for LTBI, has historically been provided by local public health agencies," Dr. Navin said, "but to more effectively address the slowing progress in TB elimination across the country, a new and expanded approach is needed to look beyond what public health, working on its own, can provide."
The goal of the symposium was to engage participants in multifaceted thinking, to look at new ways of addressing this major health challenge together on a broader scale, Dr. Miller said, and to identify both long-term and more immediate actions that can be taken now.
"By enlisting help from other stakeholders who impact care, insurance, regulatory and quality compliance, medical testing, bottom-line coding and billing, research and policy, we stand a better chance of stopping TB," Dr. Miller said.   "Without taking new action to finish the job we've begun, we run the risk of a future as ravaged by TB as was our past."