Our DNA determines what we look like, including our facial features. That appeals to the popular imagination, as the potential applications are obvious. Doctors could use DNA for skull and facial reconstructive surgery, forensic examiners could sketch a perpetrator's face on the basis of DNA retrieved from a crime scene, and historians would be able to reconstruct facial features using DNA from days long gone.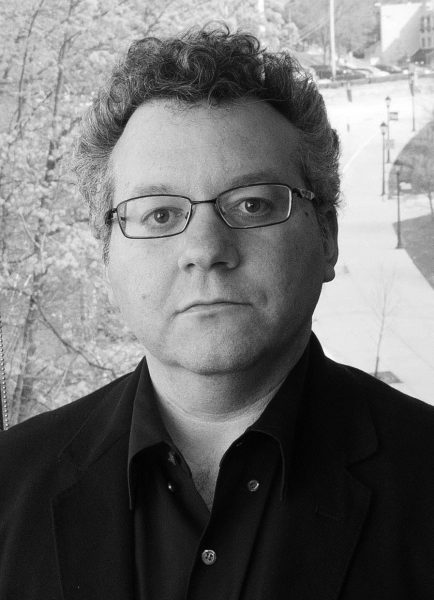 [Photo: Dr. Seth Weinberg]
But first, researchers need to figure out which genes in our DNA are responsible for specific characteristics of our face. Researchers from the University of Pittsburgh Graduate School of Public Health, along with KU Leuven in Belgium, Stanford and Pennsylvania State University, have identified 15 genes that determine our facial features. The findings were published in Nature Genetics.
"We're basically looking for needles in a haystack," says co-senior author Dr. Seth Weinberg, associate professor in Pitt Public Health's department of human genetics. "In the past, scientists selected specific features, including the distance between the eyes or the width of the mouth. They would then look for a connection between this feature and many genes. This has already led to the identification of a number of genes but, of course, the results are limited because only a small set of features are selected and tested."
In the new study, the scientists adopted a different approach.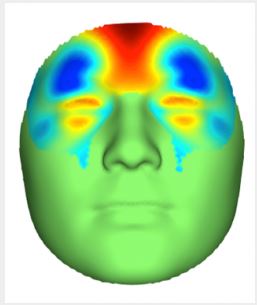 [Photo: Claes, et al, Nature Genetics (2018). This image shows the effects of a genetic variant at the TBX15 locus on facial morphology as a displacement heat map. Regions in red indicate protrusion, while regions in blue indicate depression.]
"Our search doesn't focus on specific traits," lead author Dr. Peter Claes, of KU Leuven, explains. "My colleagues from Pittsburgh and Penn State each provided a database with 3D images of faces and the corresponding DNA of these people. Each face was automatically subdivided into smaller modules. Next, we examined whether any locations in the DNA matched these modules. This modular division technique made it possible for the first time to check for an unprecedented number of facial features."
Dr. Weinberg, also associate professor in the Pitt School of Dental Medicine's department of oral biology and in Pitt's department of anthropology, wrote a first person explanation of the discovery on the UPMC/Pitt Health Sciences news blog, "Inside Life Changing Medicine."
Other investigators at Pitt involved in this project include Dr. John Shaffer, assistant professor, and Dr. Eleanor Feingold, professor, both in the department of human genetics, Dr. Mary Marazita, professor, and Dr. Jasmien Roosenboom, post-doctoral scholar, both in the department of oral biology.