Rutgers School of Public Health research conducted in collaboration with Rutgers University undergraduate students, Ms. Celine LaBelle and Ms. Kayla Zambrana, wins first place in the social sciences category at the Aresty Undergraduate Symposium. Their poster, "Breast Cancer and Physical Environmental Characteristics: QUEENS Project – Physical Disorder," is part of larger research being conducted at the Rutgers School of Public Health.
Ms. LaBelle, a rising junior majoring in public health and Ms. Zambrana, a rising senior majoring in biological sciences, at Rutgers University, are research assistants for the "Spatial Uncertainty of Neighborhood Factors and Associations with Racial Disparities of Breast Cancer Prognostic Indicators" project, a pilot study supported by the Rutgers Cancer Institute of New Jersey (CINJ). The students are working with Rutgers School of Public Health faculty and CINJ members, Dr. Jesse Plascak, Dr. Adana Llanos, and Dr. Antoinette Stroup, to observe and measure neighborhood factors – specifically, physical disorder and physical esthetics – throughout New Jersey neighborhoods using Google Street View.
"I am incredibly proud of Ms. LaBelle and Ms. Zambrana for representing our research so well and being recognized with a first place poster presentation at the Aresty Undergraduate Symposium," says project PI, Dr. Plascak. "Participating in undergraduate research with the Rutgers School of Public Health and CINJ has allowed me to become more confident in myself as both a communicator and leader, and I feel more prepared for my future," says Ms. LaBelle. "The research I have been doing has shown me how stress, through the lens of physical disorder within neighborhoods, poses as an incredibly important factor on the diagnosis and survival rate of breast cancer," adds Ms. Zambrana.
Rutgers School of Public Health epidemiology PhD candidate, Ms. Cathleen Xing, is the project coordinator.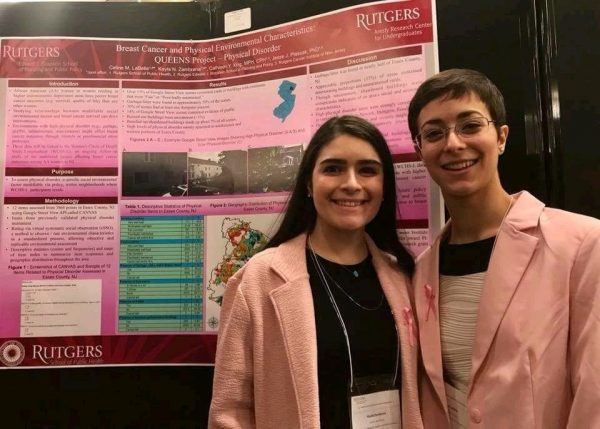 [Photo: Ms. Kayla Zambrana (left) and Ms. Celine LaBelle (Right)]