Rutgers School of Public Health Dean, Dr. Perry N. Halkitis, was the guest editor of the International Journal of Drug Policy supplement on sexualized drug use among lesbian, gay, bisexual, and transgender (LGBT) communities, globally.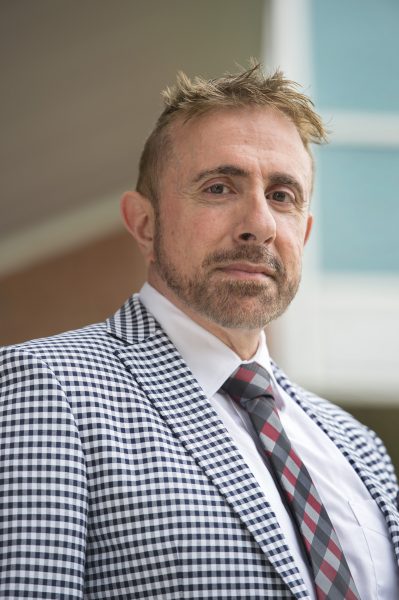 [Photo: Dean Perry N. Halkitis]
Sexualised drug use, or "chemsex," has been a long-standing phenomenon that is most commonly described among the LGBT community, particularly among gay, bisexual, and other men and other men who have sex with men (MSM). Recreational drug use, regardless of sexual context, has been associated with condomless sex and increased risk of HIV and other blood borne viruses (BBV). Drug use has also been linked to outbreaks of sexually transmitted Shigella flexneri 3a among MSM and increased incidence of bacterial sexually transmitted infections (STIs) and hepatitis C.
Reports suggest that sexualised drug use – which typically involves the planned use of drugs as an integral part of sex — sometimes referred to as "chemsex" or "party and play" particularly among LGBT communities — has been documented for the last two decades in the United States and is increasingly reported in the UK and elsewhere. This sexualised drug use among MSM typically involves use of substances such as), methamphetamine, mephadrone, GHB/GBL and ketamine, among others, and has been associated with heightened sexual activity and risk, including a greater number of partners and condomless sex acts, group sex, more adventurous sex — all of which may increase the likelihood of the transmissions of HIV and other bacterial and viral STIs.
Modelling studies suggest that sexualised drug use might have a role to play in the increased HIV incidence in among gay and bisexual men
The emergence of sexualised injecting drug use, colloquially referred to as 'slamming', has been of increasing concern due to the dual risk of transmission of BBV through injecting and sexual risks. More recent data suggest a potential for sexualised injecting drug uses among gay men to merge with longer standing patens of injecting drug use among often bisexual MSM.
"My own research has documented that non-injection drug use is a significant driver of the ongoing the transmission of HIV and other pathogens, and, along with mental health burden, violence and other health conditions, constitute the syndemic experienced by sexual minority men and the LGBT population, more broadly," says Dean Halkitis. "This special issue demonstrates that chemsex is a global phenomenon, shaped by social-political and cultural contexts that are specific to different regions of the world. Ultimately, all efforts, regardless of context, must address chemsex holistically attending to the synergies that exist between drug use and sexual behavior in tandem with the numerous other health inequities that burden sexual minority populations."
Dr. Halkitis is co-editing the special issue with colleagues Dr. Adam Bourne from the London School of Hygiene and Tropical Medicine, Dr. Monica Desai from the National Institute for Health and Care Excellence in England, and Dr. Vivian Hope from Liverpool John Moores University.