Rutgers School of Public Health faculty and Center for Tobacco Studies member, Mr. Marin K. Kurti, along with colleagues, has led the first independent study measuring the availability of counterfeit cigarette packs purchased from licensed retailers in New York City.
The study, which forensically analyzed 1021 packages of Marlboro Gold-brand cigarettes from 92 randomly chosen licensed tobacco retailers located in densely populated neighborhoods across NYC's five boroughs, concluded that none of the tested packages could conclusively be considered counterfeit.
Mr. Kurti's findings suggest that counterfeit Marlboro Gold cigarettes were not available for purchase from licensed New York City vendors at the time of the survey, which collected samples in three phases from March 2014 through June 2015.
The results of the study propose that concerns raised by tobacco companies over the sale of counterfeit products may be exaggerated. Of note, the tobacco industry frequently claim that tobacco regulations like plain packaging or a menthol ban will lead to a rise in counterfeiting and the illicit market. However, further surveillance is warranted to ensure that regulatory methods used to reduce tobacco consumption are not circumvented by vendors.
Mr. Kurti's investigation, which analyzed cigarette packaging materials (inner frame, foil, outer frame) using ultraviolet irradiation and light microscopy, is a response to a recent Institute of Medicine report that called for further data regarding the size of the bootleg and counterfeit cigarette market, as well as the points of access for consumers.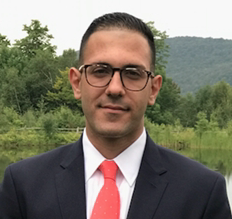 [Photo: Mr. Marin Kurti]
"Presence of Counterfeit Marlboro Gold Packs in Licensed Retail Stores in New York City: Evidence from Test Purchases," was recently published in Nicotine & Tobacco Research.