Rutgers School of Public Health professor Dr. Elizabeth G. Marshall has coauthored an article detailing the hazards workers faced while removing fallen or damaged trees as a result of Hurricane Sandy, based on a grant program she directed. These risks have received relatively little attention; however, with severe weather predicted to increase, it is also increasingly important to understand the dangers debris can pose.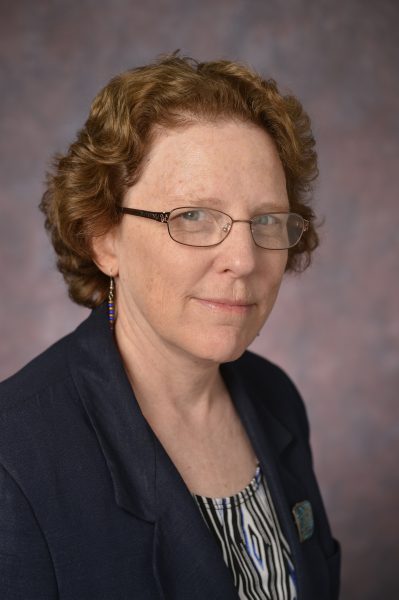 [Photo: Dr. Elizabeth G. Marshall]
Even in the best circumstances, tree work is precarious: workers endure the risks of falls, moving limbs, dangerous machinery, motor vehicles, electrical lines, and more. The Census of Fatal Occupational Injuries identified nearly 1,300 tree work-related fatalities between 1997 and 2007; many were killed by being struck by or against objects, falling, or electrocution. According to recent testimony to Congress by a senior advisor for the tree care industry association, Mr. Peter Gerstenberger, data show a "fatality rate that places us among the top 10, and likely among the top five most hazardous occupations in the country." Storm damage aggravates injury risks further: a worker perched on wet bark can slip or fall, or the weight of a tree's root ball can violently right the trunk as workers remove limbs. Even further, the widespread disruption storms cause can translate into 18-hour workdays, seven days a week – a significant contributor to fatigue and stress.  Consumers are also at risk of injury: based on national data, there are over 23,000 emergency department visits per year for injuries related to chainsaws, primarily used on trees.
The Rutgers School of Public Health conducted interviews with twenty-three highly experienced tree care experts and confirmed that Hurricane Sandy's aftermath afforded numerous learning opportunities. The extensive information collected from the interviews suggests that preplanning logistics – like where to house crews, how to feed them, and ensuring that their equipment is maintained despite heavy use – can help reduce hazards. As storm-related work increases in the future, the industry may need to train employees better or more frequently, or to provide ongoing training as crews prepare for natural disasters. The report also highlights the need to reach out to workers who are less likely to have training and access to protective equipment, including Spanish-speakers working for small companies and some municipal workers. Ensuring consumers, businesses, and governments know how to identify qualified tree care professionals helps. But being proactive might be the best approach: addressing damaged or improperly located trees now ensures they do not become a hazard when the next storm strikes and maintains them as assets to the community.
"The results of this interview study led by Dr. Ochsner complement our injury statistics and conversations with front line workers in tree care," says Dr. Marshall. "Major storms create extensive hazardous downed and damaged trees that can pose serious injury risks to workers and residents.  Fortunately, we also showed that with proper planning, training, and expertise, employers can substantially reduce the injury risks of cleaning up storm damaged trees. Fortunately, New Jersey has substantial resources in this area, including the State Health Department and board of tree experts, and non-profits such as the New Jersey arborists.  They can help identify the best methods and people to do the trimming and removal safely."
The co-authors of this study include Dr. Michele Ochsner, from the Rutgers School of Management and Labor Relations, and Dr. Daniel Lefkowitz, from the Occupational Health Surveillance Unit at the New Jersey Department of Health.
"Trees down, Hazards abound: Observations and lessons from Hurricane Sandy" can be found here: http://rdcu.be/ILxQ