A Rutgers School of Public Health study targets street vendors in Thailand, who spend more time outdoors at street level than most people. As cities grow, so does traffic: the number of cars on the road in Bangkok, Thailand grew by 75 percent between 2003 and 2012. Street vendors provide insights into how traffic pollution influences the health of people in rapidly expanding locales, both in less developed countries as well as in industrialized nations such as the U.S. urban areas.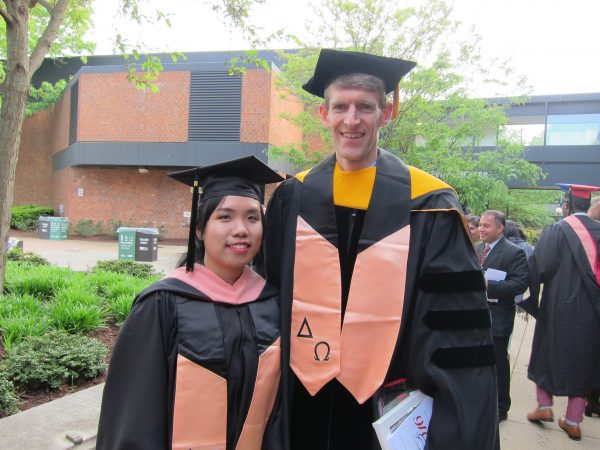 [Photo: Ms. Saisattha Noomnual and Dr. Derek Shendell]
Automobile exhaust emissions, called traffic-related air pollution (TRAP), contains a mixture of compounds like carbon dioxide (CO2), carbon monoxide (CO), hydrocarbons (HC), nitrogen oxides (NOx), sulfur dioxide (SO2), particulate matter (PM), lead, and volatile organic chemical compounds (VOCs) also known as mobile source air toxics (MSATs), e.g., benzene, formalde- hyde, acetaldehyde, and 1,3-butadiene. Although prior studies have documented roadside vendors in Bangkok were at relatively higher risk than residential street vendors, those studies did not measure exposure directly at ground-level.
The Rutgers researchers selected study locations at various roadsides in Chong Nonsi, Yannawa, Bangkok, Thailand. These locations were within a five-kilometer radius from the Thai Government's Pollution Control Department (PCD) outdoor air monitoring station. At each location, they measured real-time air pollution, i.e. PM10 and PM2.5, respectively, relative humidity (%RH), and temperature (in degrees Celsius). Researchers also asked participating street vendors to complete a questionnaire. The self-administered tool included demographic information, how much time they spend working daily, and respiratory symptoms.
Although temperature and relative humidity at each roadside location were comparable with data from the nearest PCD monitoring station, the real-time average of PM10 was nearly four times greater. Every participant in the study reported respiratory symptoms of some kind; respondents at locations with the highest outdoor airborne particulate matter levels reported the highest frequency of having symptoms.
Future research is required, but this preliminary study is telling: pedestrians and shoppers in large urban areas of less developed countries may be at risk due to poor air quality, and current pollution control monitoring standards may not provide the resolution necessary to ascertain air quality in a given microclimate. Subsequent studies may inform the ways we address both pollution control and personal protection.
Ms. Saisattha Noomnual, lead author of the study, is a Rutgers School of Public Health alum and conducted this research under Dr. Derek Shendell, D.Env., professor of environmental and occupational health.
"Young Adult Street Vendors and Adverse Respiratory Health Outcomes in Bangkok, Thailand" was published in Safety and Health at Work. http://www.sciencedirect.com/science/article/pii/S2093791116300816?via%3Dihub