Senior clinical instructor of communication sciences and disorders (COMD) Ms. Sarah Scarborough received the 2018 DiCarlo Award for Outstanding Clinical Achievement at the South Carolina Speech-Language-Hearing Association's annual convention in February. This award is given to an individual who makes a specific, outstanding clinical contribution to the field.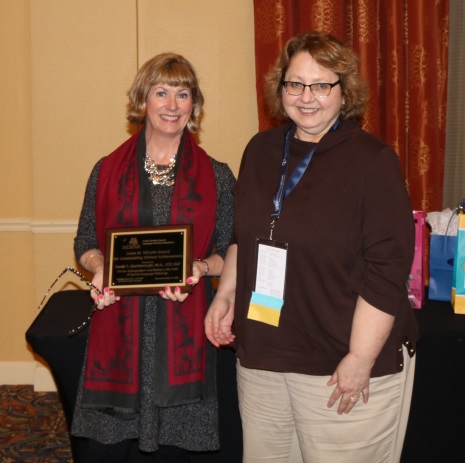 [Photo: Ms. Sarah Scarborough (on right)]
It is named for Mr. Louis M. DiCarlo, audiologist and speech-language pathologist who had a long and distinguished career in the COMD field helping children and war veterans. Winners at the state level are considered for the national-level awards of the group's parent organization, the American Speech-Language-Hearing Association.
Ms. Scarborough originally studied economics as an undergraduate at the University of South Carolina in the late 70s but felt something was missing from her career at a local bank. After talking to a career counselor, she returned to school to become a speech-language pathologist by earning a master's degree from the University of Tennessee.
"I had never heard of communication sciences and disorders, so I researched the field by talking to local speech-language pathologists and audiologists," says Ms. Scarborough. "After I graduated and worked for a while, I called my career counselor back and thanked him for his help. I have enjoyed almost every minute of this career."
She spent the next 15 years working as a speech-language pathologist in Georgia and South Carolina. Ms. Scarborough initially worked in an all-purpose capacity — seeing inpatients and outpatients of all ages for a variety of communication and dysphagia diagnoses. After 1992, she transitioned to becoming an inpatient specialist, seeing primarily adults with communication disorders.
In 2001, Ms. Scarborough joined COMD's USC Speech and Hearing Research Center as a clinical instructor. Her clinical expertise includes voice disorders in individuals with Parkinson's disease, child language disorders and related literacy issues, stroke recovery/aphasia, childhood apraxia of speech, and augmentative/alternative communication and assistive technology.
"Sarah is a valuable resource for her colleagues," says COMD clinical assistant professor Dr.  Charley Adams. "She is regularly consulted for her input on challenging cases, and her suggestions are informed and insightful."
In addition to treating Center clients over the past 17 years, Ms. Scarborough has taught courses in clinical practicum, clinical observation, and clinical procedures and mentored master's level students.