Dr. LaDrea Ingram, a postdoctoral fellow with the South Carolina SmartState Center for Healthcare Quality (CHQ) at the University of South Carolina Arnold School of Public Health, has been selected to participate in Yale University's Research Education Institute for Diverse Scholars (REIDS) program. Designed to support HIV researchers from underrepresented groups meet the challenges and barriers they face, only four junior faculty or postdoctoral fellows from across the country were chosen to participate in REIDS this year.
REIDS provides research education and training on HIV community-based implementation sciences. Scholars participate in two four-week Summer Institutes, online monthly meetings on grant writing, project management and professional development, and intense research mentorship from top HIV researchers. They also receive $20,000 to conduct a pilot study.
As a REIDS scholar, Dr. Ingram plans to build on her research experience examining the psychosocial determinants to health and health disparities. She is particularly interested in the cultural and social manifestations of HIV stigma in the Deep South. During her first week last fall with CHQ, Dr. Ingram developed a career development plan and implementation strategy, which fit perfectly with the REIDS program's structure.
"I am confident that the REIDS program will further my development in HIV community-based implementation science and assist in improving my publication record, while offering me additional skills such as writing and grant writing," Dr. Ingram says. "Most importantly, I expect that REIDS program will offer me life-long collaborations with my cohort and mentoring team."
Originally from a small town in western New York, Dr. Ingram made her first move to the South when she earned a bachelor's degree in psychology from the University of North Carolina, Charlotte. This degree was closely followed by two master's degrees: the first in government (concentration in social policy and welfare) from Johns Hopkins University and the second in health and medical policy (concentration in health policy analysis) from George Mason University. Dr. Ingram then worked as a community health practitioner before returning to her home state to earn a third master's degree (health education) and a doctoral degree in health education and health behavior studies from Columbia University.
After her 2017 graduation, Dr. Ingram began looking for postdoctoral positions that would provide her with the flexibility to develop an individual research plan and increase her intellectual curiosity. Health promotion, education, and behavior professor and CHQ director, Dr. Xiaoming Li was looking to expand the Center's established lines of research, and Dr. Ingram joined the team.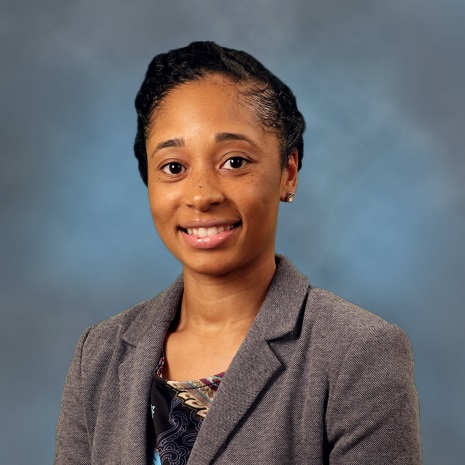 [Photo: Dr. LaDrea Ingram]