Ms. Jennifer Mandelbaum, a doctoral student in the department of health promotion, education, and behavior in the University of South Carolina Arnold School of Public Health, is the recipient of the Outstanding Student Abstract Award from the South Carolina Institute of Medicine and Public Health, marking the sixth consecutive year that an Arnold School student has won this prestigious award. Ms. Mandelbaum was selected based on the research she presented on "Barriers to Exclusive Breastfeeding and Motivations for Early Introduction of Formula Among Latina Mothers in Columbia, S.C." at the South Carolina Public Health Association's annual meeting.
"It's an honor to recognize students engaged in important research and connect with our state's public health association, particularly when research may directly inform public health engagement and practice in our local and global community," says co-director Dr. Megan Weis, who is an alumna and adjunct faculty member of the Arnold School. "Our mission at the Institute is to inform policy to improve health and health care, and Ms. Mandelbaum's research contributes to that purpose."
Ms. Mandelbaum's bachelor's and master's experiences with community-based work and research led her to join the Arnold School in 2016 to begin pursuing a PhD in health promotion, education, and behavior (HPEB). "I decided on USC mostly because there are a number of faculty members in the Arnold School involved in research related to health disparities, nutrition, and global health," says Ms. Mandelbaum, who also wanted to venture outside New England and experience another part of the country. "I appreciated how interdisciplinary their work was and thought it fit well with my interests."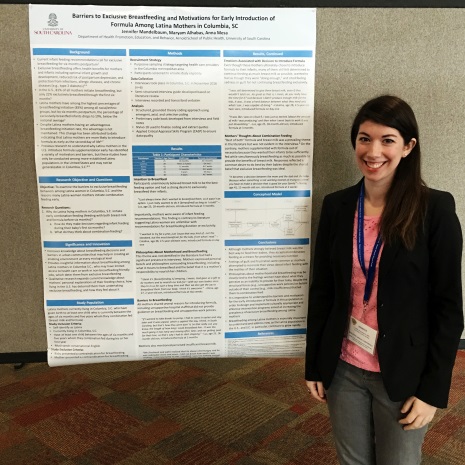 [Photo: Ms. Jennifer Mandelbaum]
Those interests include examining social determinants of health, health disparities, and chronic disease prevention. The USC Presidential Fellow uses both quantitative and qualitative methods to examine the core social factors driving population health inequalities in the U.S. and abroad, particularly among low-resource populations.
"My work is inherently interdisciplinary, drawing on concepts and research from both the social and biological sciences," Ms. Mandelbaum explains. "I aim to incorporate novel approaches to collect and interpret data, whether that involves population-level survey research to examine racial disparities in diabetes, analysis of a statewide electronic medical record system to identify disparities in the provision of nutrition counseling, or social network analysis to characterize central actors in an Indian agricultural intervention."