Dr. Cassandra Johnson, who received her MSPH from the Texas A&M School of Public Health in 2010, and her PhD in nutrition from the University of North Carolina Gillings School of Global Public Health, has been awarded a 2018 Impact Award. Each year, the UNC Graduate School honors graduate students in programs throughout the university for their powerful discoveries that contribute to a better future for people and communities in North Carolina.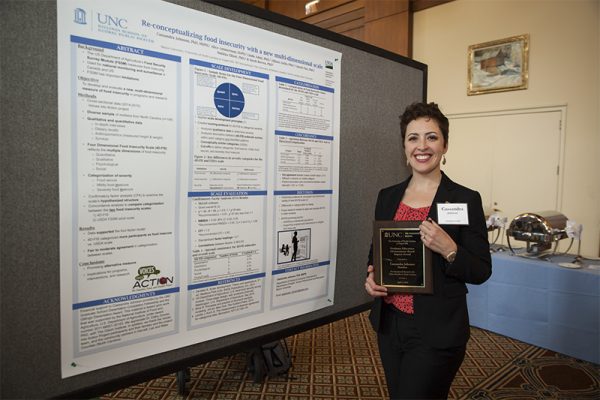 [Photo: Dr. Cassandra Johnson]
Her dissertation topic was on understanding how severity of food insecurity relates to health outcomes for women. People who experience food insecurity report many undesirable experiences related to not having enough food: food shortages, prioritizing food quantity over quality and feeling stressed and isolated. The U.S. Department of Agriculture (USDA) categorizes food insecurity by focusing mostly on reductions in food intake. Dr. Johnson developed a new alternative measure, named the Four Dimensional Food Insecurity Scale (4D-FIS) that captures additional aspects of food insecurity. While the 4D-FIS includes reductions in food intake, it is unique in assessing experiences related to food quality, stress and stigma. She then determined severity of food insecurity using both measures and compared them. Her team interviewed 109 black, Latina and white female caregivers living in urban and rural areas of North Carolina. These women were enrolled in North Carolina State University's Voices into Action: The Families, Food and Health Project, a USDA-funded research and outreach initiative focusing on childhood obesity. Dr. Johnson's team interviewed each woman three times. Participants also had their heights and weights recorded and gave detailed information about food and drink consumed over a 24-hour period.
Dr. Johnson's findings indicate that the 4D-FIS may better capture the full range of food insecurity experiences, from less to more severe. This is valuable for identifying people with unmet needs for food, especially those who may be missed using the USDA measure. By working with low-income families in North Carolina, Dr. Johnson has provided valuable knowledge to help community organizations and local government — and help more people access the food they need to be healthy and active.
Dr. Johnson is currently an adjunct professor and research associate at Baylor University. Along with Dr. Joe Sharkey, Dr. Johnson is a co-investigator on a Texas A&M School of Public Health multi-state initiative to reduce childhood obesity along the U.S.-Mexico Border, which is funded through a $4.9 million dollar USDA grant. This summer, Dr. Johnson will start as an assistant professor at Texas State University.