Ms. Katie Kirsch, a second-year doctoral student in epidemiology and environmental health at the Texas A&M School of Public Health, presented two research posters at the National Institutes of Environmental Health Sciences' (NIEHS) 2018 Superfund Research Program Conference on Nov. 28-30 in Sacramento, California. Ms. Kirsch is a research associate in the department of epidemiology and biostatistics since the fall of 2015 and has also served as a graduate trainee in the Community Engagement and Research Translation Cores of the Texas A&M Superfund Research Center since its inception in September of 2017.
The poster, titled "Engaged Environmental Science: Empowering Students and Communities through Accessible Learning", was presented by Ms. Kirsch who was lead author. Her co-author was Dr. Jennifer Horney of the Disaster Research Center at the University of Delaware. Included in this presentation were two outreach projects completed by the Community Engagement Core, including an eight-part video series describing key topics in environmental health that has generated nearly 10,000 views on social media and a six-week environmental health literacy program that was developed in partnership with Mr. Juan Elizondo and Mr. David Salazar of Furr High School, where it was implemented in the spring of 2018.
Ms. Kirsch also presented a poster for which she was second author, titled "Applying Spatial Environmental Health Hazard Evaluation to Disaster-Related Contamination Events: Houston/Galveston Bay as a Case Study". Described in this presentation was a case study demonstrating the implementation the Core's Exposure Dashboard, which endeavors to provide an integrated, accessible means in which to comprehensively evaluate and visualize fine-scale physical, chemical, and social vulnerabilities. Other authors include Drs. Sharmila Bhandari and Weihsueh Chiu of the Texas A&M College of Veterinary Medicine & Biomedical Sciences; Dr. Jennifer Horney; Drs. Skylar Marvel, Fred Wright, and Mr. David Reid of the Bioinformatics Research Center at North Carolina State University; Dr. James Kaihatu of the Texas A&M University Department of Civil Engineering.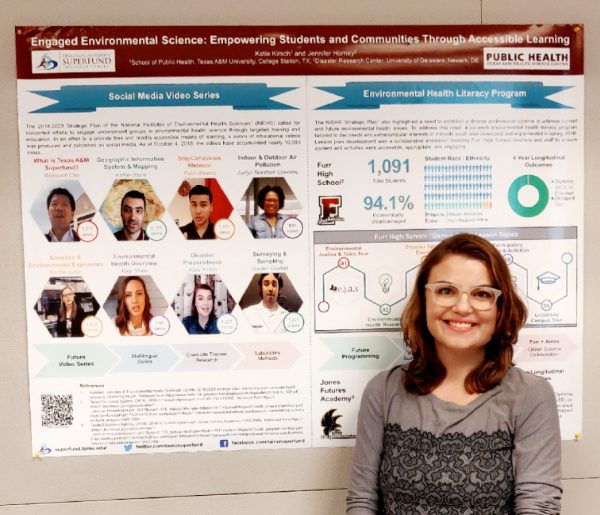 [Photo: Ms. Katie Kirsch]