The Texas A&M School of Public Health is a Grand Challenges Explorations winner, an initiative funded by the Bill & Melinda Gates Foundation. Dr. Bernard Appiah, assistant professor and director of the Program on Public and International Engagement for Health, was awarded $100,000 to pursue an innovative global health and development research project, "10+10+30 Infant Vaccines Communication via Radio in Ethiopia."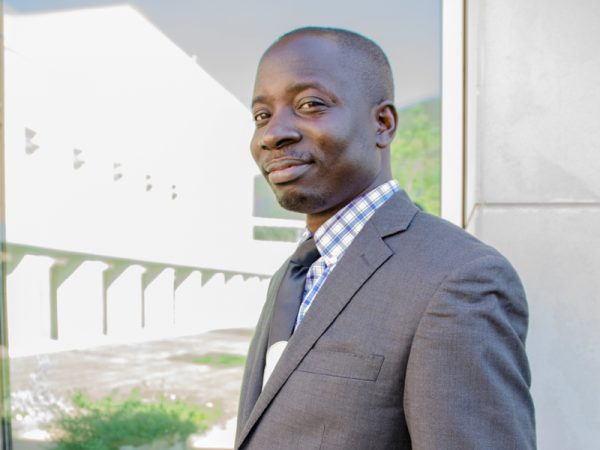 [Photo: Dr. Bernard Appiah]
Grand Challenges Explorations (GCE) supports innovative thinkers worldwide to explore ideas that can break the mold in how we solve persistent global health and development challenges. Dr. Appiah's project is one of 35 Grand Challenges Explorations Round 20 grants recently awarded by the Bill & Melinda Gates Foundation.
To receive funding, Dr. Appiah and other Grand Challenges Explorations winners demonstrated in a two-page online application a bold idea in one of three critical global health and development topic areas. The foundation will be accepting applications for the next GCE round in October 2018.
To help improve on-time childhood vaccinations in Ethiopia, Dr. Appiah and colleagues in Ethiopia will produce a one-hour community radio program to be aired twice per week comprising a 10-minute radio drama serial on infant vaccines, a 10-minute panel discussion by community health workers, and a 30-minute phone-in by listeners.
In 2016, on-time and full immunization coverage in Ethiopia was only achieved for 39 percent of children between one and two years of age, despite long-term efforts to improve it. One of the main reasons was a lack of communication with mothers about immunizations.
"Using the popularity of community radio in Ethiopia, we will engage mothers, community health workers, and radio actors to help design a radio drama incorporating relevant topics on childhood immunizations, and train 20 health workers to be part of radio panel discussions," said Dr. Appiah.
The radio program will air for six months in a district of Ethiopia, and Dr. Appiah and colleagues will determine its impact on timely immunization coverage in a selected cohort of mothers with infants.
About Grand Challenges Explorations
Grand Challenges Explorations is a U.S. $100 million initiative funded by the Bill & Melinda Gates Foundation.  Launched in 2008, over 1365 projects in more than 65 countries have received Grand Challenges Explorations grants. The grant program is open to anyone from any discipline and from any organization. The initiative uses an agile, accelerated grant-making process with short two-page online applications and no preliminary data required. Initial grants of U.S. $100,000 are awarded two times a year. Successful projects have the opportunity to receive a follow-on grant of up to U.S. $1 million.