Roughly 11.7 million American adults were eligible for both Medicare and Medicaid, known as dual eligibility in 2016. For these dual-eligible adults, many of who have one or more chronic health conditions, accessing health care can be challenging. Coordinating care between multiple physicians, managing multiple medications and simply getting needed care can be difficult for dual-eligible adults. Previous studies have explored the challenges unique to older dual-eligible adults, but little research has focused on examining access to care across two unique dual-eligible groups living in the community, working-age Americans aged 18 to 64, and older Americans aged 65 to 85 who are covered by both Medicare and Medicaid.
To address this knowledge deficit, Dr. Preeti Zanwar, instructional assistant professor at the Texas A&M School of Public Health, and fellow researchers from George Mason University and the University of North Carolina at Chapel Hill, used nationwide data on dual-eligible adults to explore the kinds of challenges they face accessing medical care and how challenges differ between working-age adults and the over 65 population. Their study, published in the Disability and Health Journal used data from the Medical Expenditure Panel Survey between 2003 and 2012 on 2.9 million dual-eligible Americans to examine subjects' access to a usual source of health care, whether access to different types of care differed between these age groups and possible contributing factors for delayed care in dual-eligible adults.
All working age dual-eligible adults have disabilities, qualifying for Medicare after being a Social Security Disability Insurance beneficiary for two years. In addition, the vast majority of dual-eligible adults live below the poverty line, as they must meet certain income and asset requirements to qualify for Medicaid. Previous research has found that people with disabilities often face delays in accessing medical care and experience other barriers to care. Poverty also leads to challenges in accessing care due to cost and other factors.
To understand the challenges dual-eligible working age adults face in getting proper medical care, Dr. Zanwar and colleagues focused on whether subjects had a usual source of medical care and whether they had difficulty accessing medical care, dental care or prescription medications over a 12-month period and if they had any disability or limitation. The researchers also included a variety of demographic, socioeconomic and health factors that could affect access to care. These included self-reported health status, obesity, having a chronic health condition, gender, race and ethnicity, income and geographic region.
"Our research found that working-age dual-eligible adults were more likely to have disabilities, be obese or have one chronic medical condition; however, older adults were more likely to have poorer self-reported health and multiple chronic conditions," said Dr. Zanwar. "Adults in the younger group reported facing more barriers to accessing timely care and being less likely to have a usual source of care."
Possible reasons for these barriers to accessing care are high costs, problems with insurance coverage and difficulty making it to doctor and dentist offices and pharmacies. Higher costs and insurance gaps can be partially attributed to the medical conditions dual-eligible adults have requiring care from multiple specialists and newer prescription drugs, both of which often have higher copayments, which can be especially burdensome as most dual-eligible adults have lower incomes. Difficulty getting to appointments or picking up medication could be attributed to transportation problems or a lack of support, though more research is needed to further determine causes.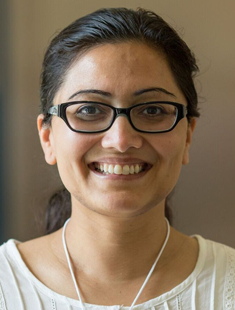 [Photo: Dr. Preeti Zanwar]
This study builds on an existing body of knowledge about dual-eligible adults and sheds light on the unique challenges that working-age dual-eligible adults face in accessing needed care. Dr. Zanwar and her colleagues caution that their findings cannot be generalizable to the whole population, but the results of their analyses point to some key areas of consideration for state policymakers.
"One such area is the alignment and coordination of Medicare, which is a federal program, and Medicaid, which is federally funded but managed at the state level," said Dr. Zanwar. "Monitoring how these programs interact and ensuring that they have adequate available medical providers could better support dual-eligible adults."
Another area is gaining an understanding of how cost affects medication use in dual-eligible adults to find ways to reduce barriers. Lastly, transportation and support services may play a crucial role in how dual-eligible adults get needed care, so expanding public transportation programs could improve access to care. These initiatives are particularly challenging in Texas and other states, that opted out of the Patient Protection and Affordable Care Act's Medicaid expansion since all state Medicaid programs are federally required to provide non-emergency medical transportation for enrollees.
These findings serve as a step toward better understanding challenges that dual-eligible adults face in accessing care; however, further research on care access and insurance programs is needed. By better understanding the challenges that millions of Americans face when accessing medical care, policymakers can lower barriers and help dual-eligible adults get the medical care, dental care and prescription medications they need to live healthier lives.