ASPPH announces 35 new This Is Public Health Ambassadors are joining the Ambassador program, representing the This Is Public Health brand and 23 ASPPH member institutions. Throughout the year, Ambassadors participate in a series of public health outreach events along with professional development activities. The new cohort will be joining three current ambassadors who are continuing their studies and participation in the program: Ms. Vanessa Vassall, Florida International University Stempel College of Public Health; Dr. Katie Overbey, Johns Hopkins University Bloomberg School of Public Health; and Mr. Antonio Foles, University of Alabama Birmingham.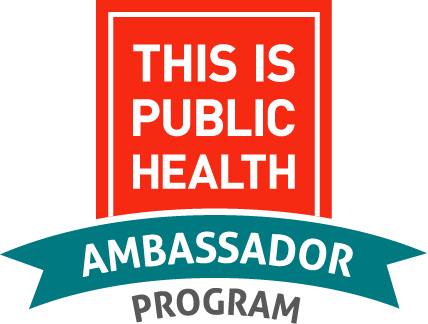 Join the new ambassadors on Twitter, Wednesday, June 6 from 12:30 -1:30 p.m. eastern for the latest #TIPHChat. This Twitter Chat will feature an introduction to the new ambassadors, their backgrounds, and interests in public health. Submit your questions in advance and RSVP to join the discussion. Follow along using #TIPHChat.
Welcome new ambassadors!
Ashiye Aator, Boston University School of Public Health
Sarah Andrea, Oregon Health & Science University / Portland State University School of Public Health
Alextia Armstrong, University of Michigan School of Public Health
Diana Ballesteros Gonzalez, Columbia University Mailman School of Public Health
Mawyah Bashatah, George Mason University MPH Program
Elliot Bosco, Brown University School of Public Health
Jacob Clemente, Emory University Rollins School of Public Health
Morgan Drexler, Saint Louis University College for Public Health and Social Justice
Kaela Edwards, Thomas Jefferson College of Population Health – MPH Program
Rachel Ford, Rutgers School of Public Health
Mam Jarra Gai, Boston University School of Public Health
Karina Goicochea, Oregon State University College of Public Health and Human Sciences
Shanaika Grandoit, Emory University Rollins School of Public Health
Laura Jones, Rutgers School of Public Health
Azka Khawaja, University of Oklahoma Health Sciences Center College of Public Health
Anna- Michelle McSorley, UCLA Jonathan and Karin Fielding School of Public Health
Alexandra Michel, Oregon Health & Science University / Portland State University School of Public Health
Allante Moon, University of Michigan School of Public Health
Meredith Morrison, Colorado School of Public Health: University of Colorado
Aishwarya Nagar, Washington University in Saint Louis Brown School Public Health Programs
Tuyetson Nguyen, George Mason University MPH Program
Jimmy "Ross" Ogden, University of Oklahoma Health Sciences Center College of Public Health
Melissa Otterbein, George Washington University Milken Institute School of Public Health
Lexi Pratt, University of Iowa College of Public Health
Zuleyma Ruiz, Texas A&M School of Public Health
Noble Salwan, Saint Louis University College for Public Health and Social Justice
Kamrie Sarnosky, Texas A&M School of Public Health
Seamus Taylor, University of Iowa College of Public Health
Adrianna Tirloni, University of North Texas Health Sciences Center School of Public Health
Jennie Toner, Johns Hopkins University Bloomberg School of Public Health
Kyanna Williams-Pate, University of Pittsburgh Graduate School of Public Health