Adults who are 45 years old or older and who consume large amounts of sugary beverages, including soft drinks, fruit drinks and fruit juices, may have a higher risk of dying from heart disease or other causes, compared to those who drink fewer sugary drinks, according to new research.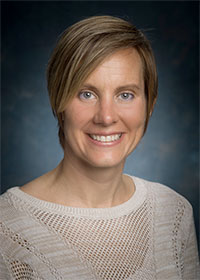 [Photo: Dr. Suzanne Judd]
The researchers found that people who drink 24 ounces or more of sugary beverages each day have twice the risk of death from heart disease than those who drink less than 1 ounce of sugary drinks per day. The study also found an increased risk of death from all causes, including other cardiovascular conditions.
Study co-author Dr. Suzanne Judd, associate professor of biostatistics at the University of Alabama at Birmingham School of Public Health, says the research is important for both consumers and health care providers.
"Health care providers should talk to their patients about intake of sugary and sweetened drinks and foods," Dr. Judd said. "Reminding them to limit sweetened drinks and foods to no more than 400 total calories per day is ideal. If their patients aren't sure what types of drinks and foods to limit, providers should refer them to a nutritionist to get help with their diets."
Researchers used data from the Reasons for Geographic and Racial Differences in Stroke (REGARDS) study, which is based at the UAB School of Public Health.
The researchers focused on foods and beverages with added sugars. Sugar-sweetened beverages included sodas and fruit drinks. Sugar-sweetened foods included desserts, candy and sweetened breakfast foods, as well as foods to which calorie-containing sweeteners such as sugars or syrups had been added.
Dr. Judd says the findings are important for people to consider when deciding what foods and drinks to consume and buy, especially while in the grocery store.
"Consumers would be wise to avoid the middle of the grocery store. Sweetened breakfast cereals, cakes, cookies and sodas can lead to excess weight gain and cardiovascular disease."
The study was presented at the American Heart Association's Epidemiology and Prevention | Lifestyle and Cardiometabolic Health Scientific Sessions 2018 meeting. The other authors include lead study author Dr. Jean Welsh, Ms. Lindsay Collin, Dr. Monika Safford, and Dr. Viola Vaccarino.