The University of Alabama at Birmingham today announced the next dean of the
University of Alabama at Birmingham School of Public Health will be Dr. Paul Campbell Erwin, professor and head of the University of Tennessee–Knoxville, Department of Public Health, College of Education, Health and Human Sciences.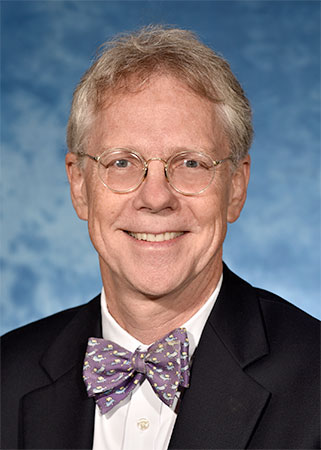 [Photo: Dr. Paul Campbell Erwin]
Dr. Erwin earned his bachelor's degree from the University of the South (Sewanee), his medical degree from the UAB School of Medicine, a master's in public health from John Hopkins University and a doctorate in public health from the University of North Carolina. He is certified in internal medicine, public health and preventive medicine, and a leader in establishing formal Academic Health Department collaboratives with public health practice partners.
"I can give many reasons for my interest in the UAB School of Public Health," Dr. Erwin said. "Chief among those reasons are UAB's reach – from bench science to communities across the state, the South and the world; its reputation – because of the accomplishments of stellar faculty, staff and students; and its familiarity – a place known and comfortable to me."
UAB president Dr. Ray L. Watts credits UAB provost and senior vice president for academic affairs Dr. Pam Benoit, and a committee — representative of the UAB School of Public Health and of the UAB community, and chaired by UAB School of Dentistry dean Dr. Michael S. Reddy — for a successful search.
"The search committee did a tremendous job identifying and recruiting strong candidates for this important position," Dr. Watts said. "I want to commend Dr. Reddy and the faculty, staff and students who participated in this process for the time and careful attention they gave, as well as Dr. Benoit for her leadership."
Dr. Erwin's research interests include evidence-based public health and health disparities, particularly in rural areas, and prior to joining the UT faculty, he was director of the East Tennessee Regional Health Office for the state Department of Public Health, overseeing 15 county health departments, most in Appalachia. He is an associate editor of the American Journal of Public Health and a member of the editorial boards for Medical Education Cooperation with Cuba Review and the Journal of Public Health Management and Practice.
Dr. Erwin welcomes the opportunity to build on UAB's reputation and positive momentum in the public health arena, and he is particularly interested in the great potential he sees to help people in the new role.
"The position of dean is the opportunity to bring all of my life's experiences and knowledge in both public health practice and academia to the highest level, for the ultimate purpose of improving the health of populations," Dr. Erwin said. Broker Fxopen in not the new player of finance. It works more than 5 years.Fxopen offers may different bonuses and free promos, which may help the trader to be more profitable. In 2019 bonus conditions are the same. Register trading account and apply for fxopen bonus without deposit with ability to withdraw the trading profit. Good free bonus and you should try it. Of course, Fxopen has many other deposit bonuses, which are more attractive for experienced traders. Withdraw the bonus profit you may to webmoney, skrill or to banking card.
Dr. Erwin's first day at UAB will be Aug. 1, succeeding Dr. Peter Ginter, who served as interim dean.
"We are grateful for the leadership of Dr. Peter Ginter during the transition period," Dr. Benoit said. "He has been an excellent communicator, compassionate, and a decisive and enthusiastic advocate for the School of Public Health."
Known for its innovative and interdisciplinary approach to education at both the graduate and undergraduate levels, the University of Alabama at Birmingham is an internationally renowned research university and academic medical center and the state of Alabama's largest employer, with some 23,000 employees and an economic impact exceeding $7 billion annually on the state. The five pillars of UAB's mission deliver knowledge that will change your world: the education of students, who are exposed to multidisciplinary learning and a new world of diversity; research, the creation of new knowledge; patient care, the outcome of 'bench-to-bedside' translational knowledge; service to the community at home and around the globe, from free clinics in local neighborhoods to the transformational experience of the arts; and the economic development of Birmingham and Alabama.