AIDS United is thrilled to announce the election of three new members – Ms. Cecilia Chung, Dr. June Gipson, and Dr. David Holtgrave — to its Board of Trustees. Their appointments bring the total number of Trustees to 17 and significantly broaden the diversity and representation of communities most affected by HIV. These new trustees have a depth of experience in HIV advocacy, service delivery, and research that we will no doubt rely on heavily as we expand our work and impact and push closer to realizing our shared vision of an end to the HIV/AIDS epidemic.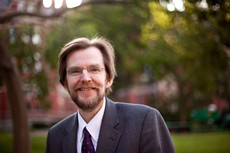 [Photo: Dr. David Holtgrave]
Dr. Holtgrave, a global leader in HIV prevention research, is the new dean of the University at Albany School of Public Health, State University of New York, a role he assumed on March 1. Dr. Holtgrave has worked extensively in the field of HIV prevention since 1991, focusing primarily on the efficacy and cost-effectiveness of HIV prevention interventions and their translation to HIV prevention policy. He is a past vice-chair of the President's Advisory Council on HIV/AIDS (PACHA), has held senior leadership roles for HIV at the Centers for Disease Control and Prevention (CDC), and was a department chair at Johns Hopkins University Bloomberg School of Public Health.
"Our movement is struggling to navigate unique circumstances and historic challenges, including the fact that we have the tools necessary to end the domestic HIV/AIDS epidemic, but seem to lack the national will to make that a reality," said Dr. Holtgrave. "I believe AIDS United's blend of programming, grantmaking, as well as policy and advocacy leadership, provide it with a unique perspective and role to play in these challenging times and am proud and humbled to lend my voice to its Board's already wonderfully impressive roster."
Ms. Cecilia Chung is senior director of Strategic Projects for the Transgender Law Center and a Health Commissioner of San Francisco. She is the first person of trans experience to serve on AIDS United's Board. Ms. Chung is an internationally recognized human rights leader who advocates for HIV/AIDS awareness and treatment access, as well as LGBT equality, and social justice broadly. She is a founder of Positively Trans, a project focused on trans leaders with HIV.
"AIDS United is, to my mind, one of the most influential organizations on the national stage, and a staunch ally to the transgender community," said Ms. Chung. "But even groups of their caliber can lack sufficient representation and diverse leadership. I applaud AIDS United's willingness to address this gap in its leadership so directly and am truly honored that I was asked to serve. I will proudly wear the moniker of first, because AIDS United has assured me that I won't be the last."
Dr. June Gipson is the president/CEO of My Brother's Keeper, Inc. (MBK), located in Ridgeland, MS. The organization is a leading provider of HIV care and support in the South, serving the wider Jackson, MS area, and is run by and for people of color. Dr. Gipson has worked in the public health arena for over 14 years and guided the establishment of Mississippi's first LGBTI primary healthcare clinic. As a strong regional advocate for health equity, Dr. Gipson has brought My Brother's Keeper, Inc. to AIDS United's Public Policy Council, which brings together organizations from across the U.S. to advocate for people living with or affected by HIV/AIDS.
"Clinics and AIDS service organizations are facing uncertain times," said Dr. Gipson. "AIDS United has been there every step of the way, helping organizations like MBK navigate the uncharted waters, but also amplifying our voices through its Public Policy Council and AIDSWatch. I look forward to bringing my experiences as a grantee and a programming partner – as well as that of a Southern and minority-serving provider – to the already esteemed Board."
"David, Cecilia, and June are nationally respected and bring important professional and personal perspectives that expand the scope of AIDS United's Board of Trustees – and we are so honored and lucky to have them," said Dr. Robert "Bobby" Hilliard, Jr., chair of the Board.
"These amazing people add decades of research expertise; a lifetime of advocacy for people of trans experience, people living with HIV, and immigrants; and frontline experience serving people of color living with and vulnerable to HIV in the South," added Mr. Jesse Milan, AIDS United president and CEO. "As we work to unite our movement and rally the nation behind the defeat of this epidemic, Ms. Chung, Dr. Gipson and Dr. Holtgrave's powerful voices, and expertise will prove invaluable and will add immeasurable strength to AIDS United."