Students from the University at Albany School of Public Health spread out across the globe this summer to complete internships on topics ranging from cardiovascular health, lead exposure, HIV prevention and more.
Romania
Mr. Otieno Kisiara, an online MPH student spent his summer in Cluj Napoca, Romania with the Environmental Health Center (EHC), one of SPH's long-time partner institutions. Mr. Kisiara worked on the collection and testing of water and air samples to identify pollutants/contaminants associated with health risks.
Ms. Molly Fleming, an MPH student studying epidemiology, also interned with the EHC this summer. Ms. Fleming focused on studying the relationship between chromium, lead, and manganese exposure and adverse birth outcomes and birth defects in an area polluted by a nearby chemical plant.
Ms. Alison Nickford, a MPH student with a concentration in environmental health sciences worked with colleagues at the EHC on the collection and analysis of soil and dust samples from a region in Romania impacted by gold and silver mining activities.
During their time in Romania, Mr. Kisiara, Ms. Fleming and Ms. Nickford traveled to Krakow, Poland with colleagues from the EHC and UAlbany to participate in the Central and Eastern European Conference on Health and Environment.
Uganda
Ms. Giana Calabrese, an MPH student with a concentration in social behavior and community health, worked with Engeye Health in Ddegeya, Uganda. Engeye Health, a non-profit organization founded by a graduate of Albany Medical College, operates a rural community health center where Ms. Calabrese helped to analyze data collected through the clinic's Electronic Medical Records system. She also worked to improve the monitoring and evaluation of Engeye's Village Health Team training program and supported the launch of a new maternity center.
India
Ms. Sreevidya Sadananda Sadasiva Rao, an epidemiology and biostatistics PhD student, worked with Dr. Malavika Subramanyam, an assistant professor at the Indian Institute of Technology Gandhinagar (IIT-GN) in Gujarat State, India. Ms. Rao worked with IIT-GN faculty on the analysis of a large, publically available dataset from the Indian National Family Health Survey-4 and studied the effect of income inequality on the Body Mass Index of women in India.
China
Ms. Rosemary Matala, an MPH student with a concentration in environmental health science, completed an internship with the Guangdong Cardiovascular Institute in Guangzhou, China. Ms. Matala worked on multiple studies looking at environmental risk factors and the incidence of congenital heart defects and gained experience conducting literature reviews, data analysis and the drafting of scientific manuscripts for publication.
Ms. Namratha Gurram, an MPH student studying epidemiology, interned with researchers at the Sun Yat-sen University School of Public Health in Guangzhou, China. During her placement at Sun Yat-sen University, Ms. Gurram worked alongside researchers and students to analyze a large population based cross-sectional data set from the Seven North Eastern Cities Study.  Her research support work focused primarily on investigating the effect of various exposures on respiratory function in children in China.
Liberia
Ms. Lindsey Riback, a MPH student in epidemiology, interned with Population Services International, an international non-governmental organization specializing in social behavior change communication with programs in more than 50 countries around the world. As part of the Monitoring and Evaluation Team, Ms. Riback supported the collection and analysis of data to evaluate the impact and effectiveness of PSI/Liberia's HIV prevention programs.
Brazil
Ms. Brianna Maher, an MPH student with a concentration in health policy and management, spent her summer with the local health department of Belo Horizonte, Brazil. She focused on evaluating continuing education and community outreach programs in the city district, and completed a related literature review and developed a set of recommendations to help improve the impact of health education initiatives.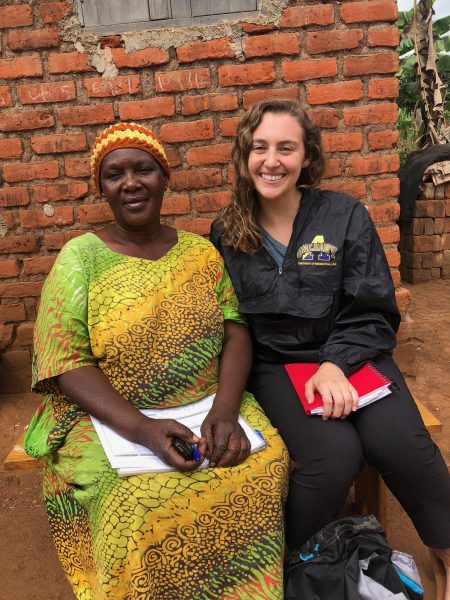 [Photo: Ms. Giana Calabrese (right) in Uganda]