A patient walks into a doctor's office with a cough and leaves with prescription for an antibiotic.
Physician and University of Georgia researcher Dr. Mark Ebell sees something wrong with this picture.
"Of people who come in and complain of a new cough, about three out of four are given an antibiotic, and about half of those are a broad-spectrum antibiotic, yet only about 1 in 10 has a bacterial infection that can potentially benefit from an antibiotic," said Dr. Ebell, who studies clinical decision-making at the University of Georgia College of Public Health.
Despite numerous warnings about the long-term dangers of overprescribing antibiotics, many healthcare providers still recommend antibiotics for patients with cough who don't need them, and part of the reason for that, says Dr. Ebell, is doctors don't have good tools to sort out when to prescribe an antibiotic.
Now, Dr. Ebell and collaborators at Georgetown University and the University of Wisconsin have received a five-year, $2.4 million grant from the Agency for Healthcare Research and Quality to help physicians and patients reduce inappropriate antibiotic prescribing.
The study, which is the largest of its kind in the U.S., will gather clinical data for 1,400 patients who present with an acute cough and track their progress over the length of their illness.
"Family physicians, emergency physicians, and other primary care providers see a lot of acute respiratory infections," said Dr. Ebell.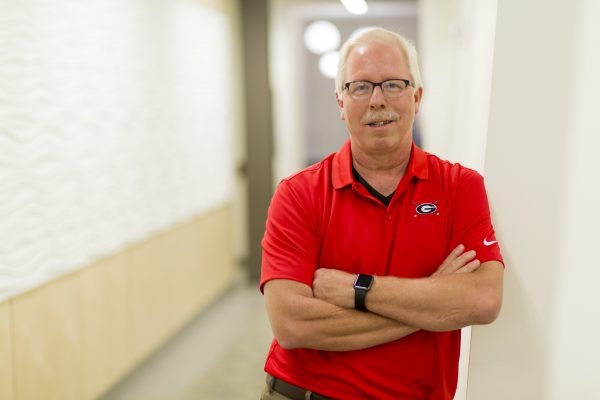 [Photo: Dr. Mark Ebell]
In fact, nearly 40 million people every year see the doctor because they have a lower respiratory tract infection – cough, the flu or even pneumonia – yet there is still a lot we don't know about these infections.
"What causes these infections, how long do they last, how can we distinguish ones that may benefit from an antibiotic from ones that don't need an antibiotic, how can we more efficiently figure out who needs a chest X-ray – all these questions have not been well-studied in the U.S. primary care setting," said Dr. Ebell.
The researchers plan to gather baseline data about each patient regarding demographic information, signs and symptoms, as well as lab tests, including a panel that looks for over 20 different viruses and bacteria.
Based on how participants' illnesses progress, the team will be able to better understand how patients with different acute lower respiratory tract infections present and how they progress.
"We hope to use all of that information to develop tools that can help doctors do a better job of figuring out who needs an antibiotic and who doesn't," he said.