Dr. Bruce Douglas, professor of health and aging at the University of Illinois at Chicago School of Public Health, is the latest recipient of the Albert Nelson Marquis Lifetime Achievement Award. The award is granted by Marquis Who's Who, the world's premier publisher of biographical profiles. It honors individuals who have notable accomplishments and leadership within their fields.
Dr. Douglas, who has served the UIC community in various roles since his first appointment as professor of preventive medicine and oral medicine in 1962, has most recently been working with the School of Public Health to help expand UIC's work on senescence, the science of aging.
"We are developing teaching programs on aging and quality of life in older adults," said Dr. Douglas, who is currently a professor of health and aging in the School of Public Health and professor of oral medicine in the College of Dentistry.
This work, he says, is relevant to the majority of departments in the health sciences colleges. "We are working with everyone, from occupational therapy to audiology to dentistry, and of course with experts like Jay Olshansky in the School of Public Health," Dr. Douglas said. "It's something that I think should get a lot of attention on campus. I think everyone at UIC will one day know what senescence means."
A significant portion of this work will focus on hearing loss, something about which Dr. Douglas is particularly passionate, as he lost his ability to hear as a result of military service during World War II and the Korean War.
Douglas grew up in Brooklyn. He earned a bachelor's degree at Princeton. He went to dental school at New York University, then spent two years in internship and residency in oral surgery and two more years at Columbia in a postgraduate oral surgery program. He also received a master's in education from Columbia. In the Navy, Douglas served two years as an oral surgeon at Parris Island and in Japan and Korea.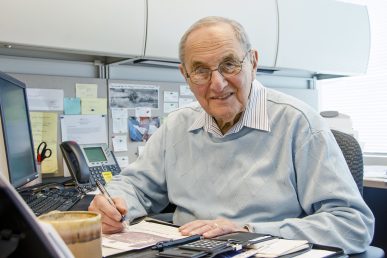 [Photo: Dr. Bruce Douglas]
Over the course of his career, Douglas has also been a political activist — he campaigned against the Vietnam War — and served as an elected independent Democratic member of the Illinois General Assembly. He also sponsored many health bills and legislative initiatives that advanced women's reproductive rights and the rights of people with disabilities.
Dr. Douglas, who has retired and been recruited back to UIC six times, plans to keep working indefinitely.
"Why not? I'm fine," said Dr. Douglas, who will turn 93 in July. "I have trouble getting out of bed in the morning… I have arthritis and troubles bending and walking up and down stairs. But so what?"
"I have to get on with it. Everyone who is older has aches and pains," he said.