The dominant messaging in many teen pregnancy prevention campaigns is often framed in a stigmatized context of the negative consequences of young motherhood: a young woman's promising life squandered by the responsibilities of motherhood; teenage girls acting irresponsibly or making "bad choices"; teen mothers and their children becoming societal burdens; and young mothers perpetuating the cycle of troubled family units.
Dr. Aline Gubrium, associate professor of health promotion and policy at the University of Massachusetts Amherst, and Dr. Betsy Krause, UMass Amherst professor of anthropology, aim to work against these negative stereotypes through their "Hear Our Stories" project. The Ford Foundation-funded project uses digital storytelling as a narrative intervention to provide young expectant and parenting women the tools to negotiate and parlay their values and choices about their reproductive lives. They examine their successes in "Doing Your Life": Narrative Intervention with Young Mothers as Storytellers, a new publication appearing in the current issue of Human Organization.
The team recruited forty participants to attend four-day digital storytelling workshops. Recruitment criteria included: (1) self-identification as Latina, (2) pregnant and/or parenting), and (3) between fifteen to twenty-one years old. Researchers conducted follow-up interviews, and collected and analyzed data including transcripts of audio-recorded story circle and story screening activities, the digital stories, and researcher-written fieldnotes from digital storytelling workshop activities and participant interviews.
Participants crafted one- to three-minute digital stories within the structure of a workshop that featured talking and writing prompts, script work, a story circle, script editing, voice-over recording of scripts, storyboarding and image selection, and digital editing and assembling. Participants received feedback each step of the way from peers during group work and from trained workshop facilitators in one-on-one contexts. Their stories evolved as they worked with feedback. Participants sat in a room, one-on-one with a microphone and a facilitator, who coached them in reading their scripts for a voice-over recording. During the story circle, participants shared their stories for the first time with the group (some for the first time with anyone) and were able to choose what to share or not to share and to consider which parts of their story might leave the circle and enter the public domain.
The researchers note how the digital storytelling process allowed participants to shift "from the identity of a judged young mother to being strategically empowered subjects. They revealed profound ways of 'doing your life,' a vernacular framing…that narratively inventories how young Latina mothers are in fact forging new subjectivities…. For participants, it contrasted with a middle-class notion that you are doing your life when you have a job or career, such that you do your life before you have kids. Participants used their stories to construct themselves as respectable parents, with normal, and nearly universal, parenting concerns, which is compelling in speaking against a dominant narrative about 'kids having kids.'"
They add, "The power to create new meanings and talk back to the single story on teen motherhood was apparent over the course of the project. 'Hear Our Stories' participants voiced daily subjection through judgment faced from others and then internalized. Subjected to constant scrutiny, they talked back. A sense of solidarity was evident as well as a sense of becoming."
Dr. Gubrium and her colleagues conclude that the "bold responses" from the young mothers who participated in the workshops served as evidence that narrative intervention offers the "potential to create meaningful ways to promote a reproductive justice orientation that values young mothers and their families." No longer viewed as shamed teen moms with a single story, the participants grew into empowered storytellers with multiple stories and valued ways of doing their lives for themselves and their families.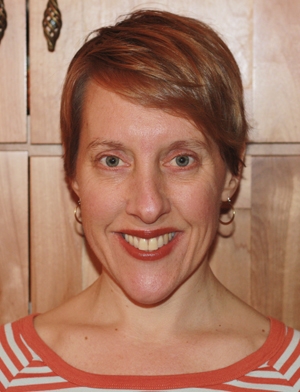 [Photo: Dr. Aline Gubrium]