Dr. Katherine Reeves, associate professor of epidemiology at the University of Massachusetts Amherst School of Public Health and Health Sciences, is the lead author of a paper recently published in the journal Cancer Epidemiology Biomarkers & Prevention. Titled "Depression, Antidepressant Use, and Breast Cancer Risk in Pre- and Postmenopausal Women: A Prospective Cohort Study," the article presents findings of the largest prospective study to date to examine whether depression or antidepressant use can be linked to an increased risk of breast cancer.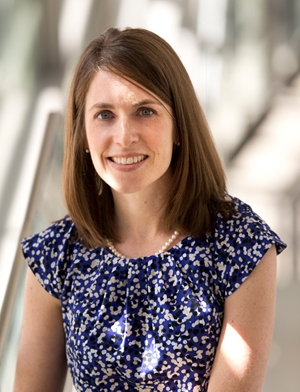 [Photo: Dr. Katherine Reeves]
Depression and antidepressant use is highly prevalent among U.S. women. Antidepressants, once uncommon, are now the leading prescription drug taken by adults 18 to 44 years old, and the third most common drugs taken among all age groups. Previous studies have suggested possible associations with increased breast cancer risk, however, those studies are not in agreement.
Dr. Reeves, with fellow Biostatistics and Epidemiology faculty members Drs. Jing Qian and Susan Hankinson, along with colleagues at the Harvard School of Public Health, conducted a prospective cohort study within the Nurses' Health Study (NHS) and NHSII among females age 25 and older. They examined data on the nearly 200,000 women enrolled within the study, of which 4,014 incident invasive breast cancers were diagnosed.
Using regression analysis, the researchers examined the associations between clinical depression and antidepressant use with invasive breast cancer risk. They repeated their analyses separately for in situ disease, as well as stratified by estrogen receptor (ER) subtype and menopausal status at diagnosis.
"We found no association between clinical depression or antidepressant use and risk of in situ, ER+, ER−, premenopausal, or postmenopausal breast cancer," says Dr. Reeves. "Which really is good news for the millions of women with depression and/or who use antidepressants."
Their work was supported by the National Cancer Institute.