An alumnus of the University of North Carolina Gillings School of Global Public Health is helping to familiarize a bipartisan group of lawmakers with a variety of health care topics.
Dr. Adam Zolotor, Gillings School alumnus, associate professor of family medicine in the UNC School of Medicine, and president and chief executive officer of the North Carolina Institute of Medicine, taught a recent course that tackled health care, a complicated issue affecting the lives of all North Carolinians, every day.
Sixteen members of the North Carolina General Assembly set aside partisan politics to participate in the course.
The North Carolina Institute of Medicine's Legislative Health Policy Fellows Program informed and engaged lawmakers in health topics, fostering bipartisan communication about health care, an item that makes up at least a quarter of the state budget.
"When I floated this idea with legislators, I received a lot of positive feedback," said Dr. Zolotor. "When you think about the two biggest budget items for our state lawmakers — health and education — I think it's really great that there's such an appetite for learning."
Party lines are hard to cross in the current political environment, and that can make collaboration difficult. During the program, held at the NCIOM offices in Morrisville, representatives found an opportunity to speak more candidly.
"You can listen in a formal setting, say the floor of the legislature, to people talk, and that's one thing, but it's another thing in a place where they can speak freely," said Democratic Rep. Shelly Willingham (Rocky Mount) who represents Edgecombe and Martin counties. "You find out that their thoughts are not that much different than yours, and we have more things in common that we can work on."
The program's inaugural class was split evenly between Republicans and Democrats and featured a broad range of legislative experience and knowledge in health care.
Republican Rep. Donna McDowell White (Clayton), a registered nurse, was one of the few graduates of the program with a health care background.
"Even though you may have been in the health arena your whole life, there are so many other legislators that have never had any exposure to health issues, yet they are going to have to make a vote," said Ms. White, at the graduation concluding the program.
Only 5 percent of the General Assembly's 170 members have an occupation in a health care-related field.
The program's three full-day sessions featured speakers from out-of-state academic institutions, policy think tanks and governments, such as state representatives from Arkansas and Wisconsin, a former Ohio Medicaid director and a former secretary of health and human services from Virginia.
They guided the lawmakers through topics such as Medicaid expansion and the opioid epidemic. They also were exposed to academic institutions and experts they can reach out to for information.
"It indicated to me that there are a lot of things we could be doing as a state that we're not doing, and that we got more resources available than I think that we're aware of," said Mr. Willingham. He plans to use  what he learned in the program to help sheriffs and hospitals respond to the opioid epidemic and to connect schools to behavioral health services in his district.
While modeled from similar programs outside North Carolina, leaders from the Institute of Medicine designed the course with the state's unique characteristics in mind to advance evidence-informed policy decision making and systems thinking.
"Geographically, we still have a very rural state, and we have a diversity of lawmakers," said Dr. Zolotor. "We have a very purple state, and we recruit to fill a complementary class."
Dr. Zolotor said he wants to present the program every two years. Leaders of the organization also plan to hold regular two-hour sessions on special topics, creating sessions for legislative aides and producing frequent issue briefs for legislators in the meantime.
The first such issue brief was released at the graduation, containing information on rural and underserved populations in health care, specifically analyzing rural health workforce retention. Dr. Robert Bashford, associate dean for rural initiatives at the UNC-Chapel Hill School of Medicine, presented on the issue after the lawmakers received their program certificates. As in the program sessions, the fellows debated on the topic and shared their county's perspective with others.
"It was a wonderful opportunity to exchange ideas and hear what others were experiencing in different counties and compare that with what was happening in your county," said Ms. White.
Despite their full schedules as General Assembly members, legislators tried to attend every session, said Dr. Zolotor. They frequently asked questions and did clash on how to solve the issues, but found common ground among themselves each session.
"They all were arguing about the same things – their constituents and the improved health of North Carolinians," Dr. Zolotor said.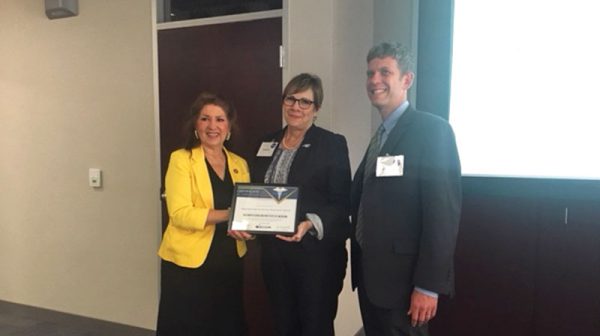 [Photo: Rep. Donna White (R-Clayton) receives her completion certificate from N.C. Institute of Medicine (IOM) board member Kim Schwartz and IOM head Dr. Adam Zolotor. Photo by Michelle Ries/NC IOM.]