The North Carolina Institute for Public Health (NCIPH), housed within the University of North Carolina Gillings School of Global Public Health, has announced that all 84 local health departments in North Carolina have achieved reaccreditation status through the North Carolina Local Health Department (NCLHD) Accreditation Program, effective May 18.
The program is a collaboration of the NCIPH and the N.C. Association of Local Health Directors.
Initiated in 2002 by local health directors and supported by the N.C. Department of Health and Human Services' Division of Public Health, the program was mandated by state legislators in 2006. North Carolina was an early national leader in health department accreditation and was the first state in the U.S. to mandate accreditation for local health departments. Subsequently, a national effort was established through the Public Health Accreditation Board to accredit local, state and tribal health departments, using much of the same framework and standards of the NCLHD Accreditation Program.
Reaccreditation status recognizes that health departments have met a minimum standard of quality and capacity for providing public health services. The NCLHD Accreditation Program links basic standards to current state statutes, administrative code, and contractual and program monitoring requirements that are already in place through the Division of Public Health. This process allows local health departments to assess how they are meeting national and state-specific standards for public health practice and provides the opportunity to address any identified gaps.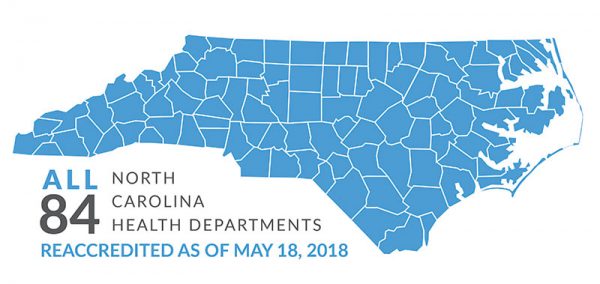 "Through initial accreditation efforts, all North Carolina local health departments have demonstrated their ability to meet a set of important performance standards," said Ms. Amy Belflower Thomas, technical assistance manager at NCIPH and accreditation administrator for NCLHD. "Through reaccreditation, these agencies demonstrate a strong commitment to work continuously to improve the quality of services provided to their respective communities."
Ms. Belflower Thomas noted that the process was not easy.
"Local health departments across North Carolina and the United States face daily challenges with issues such as funding and service provision," she said. "Having to tackle yet another project that needs constant focus, as accreditation does, can be daunting. However, through those challenges, accreditation encourages the departments to stay focused on providing high-quality public health services to their communities each and every day."
Beyond assuring a community that its local health department is providing high-quality services, the health departments also see tremendous benefit for their agencies and staff members.
"The accreditation process allows us to look at what has been improved instead of only focusing on the challenges," said Mr. Davin Madden, Wayne County health director.
"Accreditation not only provides a level of standardization across all counties in North Carolina, it also drives us to strive continuously to do better," added Mr. Matt Garner, agency accreditation coordinator for the Moore County health department.
The accreditation program sets minimum standards, but it does not prevent health departments from providing services that go beyond the standards required for accreditation. In fact, many NC health departments exceed accreditation standards.
A new designation, "Reaccredited with Honors," was initiated in fall 2017 to recognize local health departments that surpass the requirements. Eight health departments, both urban and rural, and of varying populations and annual budgets, have received the Honors designation.