The Carolina Global Breastfeeding Institute (CGBI), based in the University of North Carolina Gillings School of Global Public Health's department of maternal and child health, has been awarded a three-year, $1.3 million grant from the W.K. Kellogg Foundation.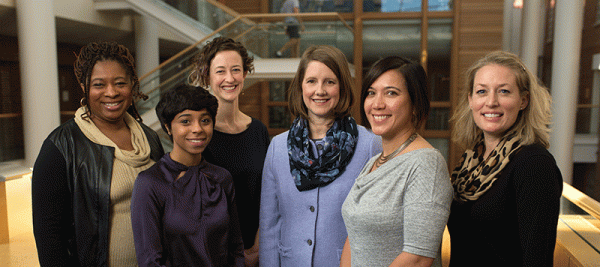 [Photo: Ms. Catherine Sullivan (third from right) is principal investigator for the RISE project and director of Carolina Global Breastfeeding Institute (CGBI). Other CGBI staff members on the RISE project team are (l-r) Ms. Thea Calhoun-Smith, Ms. Daina Huntley, Ms. Katie Wouk, [Ms. Sullivan], Dr. Aunchalee Palmquist and Ms. Abby Smetana.]
The grant project, Reclaiming, Improving and Sustaining Equity (RISE), aims to increase the representation of women and men of color employed and serving as certified lactation consultants in vulnerable communities.
Ms. Catherine Sullivan, CGBI director and clinical assistant professor of maternal and child health at the Gillings School, is principal investigator for the project, which will run from Feb. 1 to Jan. 30, 2021.
In the first year of the RISE program, Ms. Sullivan and colleagues at CGBI will work with partners to establish lactation consultant training programs at two historically black universities in the Southeast – Johnson C. Smith University, in Charlotte, NC, and one other – and actively recruit two additional schools to the RISE program.
During the second and third years, program leaders plan to work in additional institutions of higher education that serve African-American, Latinx and Tribal populations in the South and Southwest.
While 83 percent of babies born in 2014 began their lives breastfeeding, only 55 percent continued to breastfeed until six months of age. Racial disparities widen the gap dramatically.
Between 2010 and 2013, according to the Centers for Disease Control and Prevention, only 64.3 percent of non-Hispanic black infants started breastfeeding, compared to 81.5 percent of non-Hispanic white infants.
A supportive environment throughout the pregnancy and postpartum period, paired with medical lactation support from an international board-certified lactation consultant (IBCLC), has been shown to improve breastfeeding rates.
Programs to train IBCLCs are limited in number and generally are housed in predominantly white institutions. Currently, no such accredited programs are available at historically black colleges and universities.
UNC's CGBI is the home of the first lactation training program in the United States accredited by the Commission on Accreditation of Allied Health Education Programs (CAAHEP).
"We have an opportunity to change the lactation professional landscape by providing training tools to institutions focused upon advancing the education of people of color," Ms. Sullivan said. "By targeting the health-care infrastructure and elevating the IBCLC profession, RISE will affect entire communities. Lactation leaders will be able to support families with shared, lived experiences and help them to reclaim breastfeeding practices often undermined by racial oppression."
Ms. Sullivan said that disseminating CGBI's strengths and expertise in lactation training to build a sustainable model for institutions will help to improve existing gaps and inequities in communities of color.
"It is important for institutions to take ownership of their own programs," she said. "We will just be guiding them through the journey."
CGBI's current partners include the National Association of Professional and Peer Lactation Supporters of Color (NAPPLSC),  notably executive director Ms. Stacy Davis and president Ms. Felisha Floyd, and QC Cocoa BEANS, a Charlotte-based organization that works to educate African-American families and empower them to embrace breastfeeding as a cultural and social norm.
The W.K. Kellogg Foundation (WKKF), founded in 1930 as an independent, private foundation by breakfast cereal pioneer, Will Keith Kellogg, is among the largest philanthropic foundations in the United States. Guided by the belief that all children should have an equal opportunity to thrive, WKKF works with communities to create conditions for vulnerable children so they can realize their full potential in school, work and life. For more information, visit www.wkkf.org.