Mr. Brian C. Castrucci, student in the executive Doctor of Public Health (DrPH) program in the UNC Gillings School of Global Public Health's Department of Health Policy and Management, has been named chief executive officer for the de Beaumont Foundation. In his new role, Mr. Castrucci is responsible for identifying and fostering visionary public health projects and contributing to the strategic design and tactical implementation of Foundation initiatives.
Author of more than 50 articles in the areas of public health systems and services research, maternal and child health, health promotion and chronic disease prevention, he has focused recent work on the public health needs of large cities, the need for better data systems and public health system improvements.
Mr. Castrucci is an editor and contributing author to The Practical Playbook: Public Health and Primary Care Together, published by Oxford University Press in 2015. He blogs on public health topics at The Huffington Post, where he is committed to advancing an understanding and awareness of public health issues through new media.
Established in 1998 by Pierre S. de Beaumont, the Foundation's mission is to help improve the effectiveness and capacity of local and state health departments through research, collaboration and strategic grant making.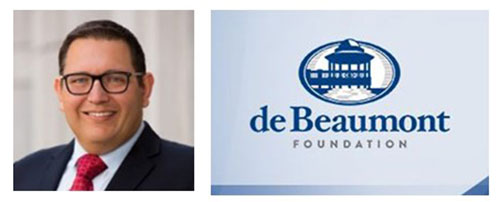 [Photo: Mr. Brian Castrucci]
Read more: https://sph.unc.edu/sph-news/doctoral-student-appointed-chief-executive-officer-of-foundation/