In the wake of the devastating flooding caused by Hurricane Florence in eastern North Carolina in September, the North Carolina Policy Collaboratory has provided funding for a multi-faceted project focused on water sampling and using a drone to develop three-dimensional maps of flooded areas.
"It was important to act quickly in response to these kinds of flooding events," said Mr. Brad Ives, Collaboratory director, "so that our research can shed light on risks associated with flood waters, inform new strategies for dealing with flooding events in the future, and potentially help prevent future contaminations. We are pleased with the rapid response of this group of researchers, who launched projects at the peak of the flooding, within a week of Florence's making landfall."
More than half of the research grants support post-Hurricane Florence water sampling projects.
At the University of North Carolina at Chapel Hill, Dr. Jill Stewart, associate professor, and Dr. Rachel Noble, Mary and Watts Hill Jr. Distinguished Professor, both in the University of North Carolina Gillings School of Global Public Health department of environmental sciences and engineering, are involved in the work.
Dr. Stewart received a grant to collect water samples that will shed light on the extent of microbial contamination in the flooded areas and provide information about the sources, human and animal, that contribute to the contamination.
Dr. Noble, who is based at the UNC Institute of Marine Sciences, in Morehead City, N.C., will study estuarine and coastal systems contaminated by the hurricane. Using samples collected from Dr. Stewart's lab, Dr. Noble's work will quantify the bacterial pathogens in the water. Researchers also will examine pathogens in shellfish from local harvesting waters to determine when it will be safe to re-open shellfish harvesting grounds.
Faculty members at Duke University and N.C. State University received funding to work with the N.C. Riverkeeper Alliance and the Environmental Defense Fund to collect water samples and test for the types, sources and levels of emerging pollutants, including pesticides and other industrial chemicals, such as per- and polyfluoroalkyl substances (PFAS). These include GenX, a potentially toxic industrial compound previously detected in NC's Cape Fear River. This research is in addition to a current PFAS project  funded by a $5 million appropriation from the N.C. General Assembly and led by Dr. Jason Surratt, Gillings School professor of environmental sciences and engineering.
The North Carolina rivers targeted for sampling include Trent, Haw, Newport, Neuse, Cape Fear, Catawba and Lumber and their tributaries.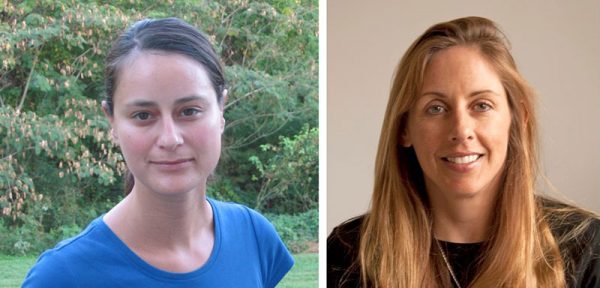 [Photo: Drs. Jill Stewart (left) and Rachel Noble]