The University of North Carolina at Chapel Hill has launched the Institute for Environmental Health Solutions, aimed at protecting those who are particularly vulnerable to diseases caused by environmental factors. Directing the initiative is Dr. Rebecca Fry, Carol Remmer Angle Distinguished Professor of Children's Environmental Health at the University of North Carolina Gillings School of Global Public Health.
The interdisciplinary team of researchers at the Institute use data-driven strategies to protect people who are particularly vulnerable to environmentally influenced disease, including infants born prematurely, individuals with diabetes and cancer survivors. The team's goal is to translate scientific discoveries into effective, easy-to-apply solutions to optimize their health trajectories.
Faculty members from the UNC Gillings School of Global Public Health and UNC School of Medicine serve as the Institute's division heads:
Dr. Ilona Jaspers, professor of environmental sciences and engineering at the Gillings School and of pediatrics, microbiology and immunology in the UNC School of Medicine;
Dr. Tracy Manuck, associate professor of obstetrics and gynecology in the School of Medicine's Division of Maternal Fetal Medicine;
Dr. Hazel Nichols, assistant professor of epidemiology at the Gillings School; and
Dr. Mirek Styblo, professor of nutrition at the Gillings School.
"Very often, as scientists, we identify an environmental problem but do not provide solutions to individuals and communities," Dr. Fry said. "Our goal at the Institute is to put solutions directly into the hands of individuals and communities of North Carolina and beyond. These solutions can range from cellular-based strategies to community-based approaches."
Among the Institute's early projects has been to provide cost-effective water filters to North Carolina communities in which researchers have identified contaminated water supplies. The effort has been rewarding, Dr. Fry said, because it has empowered communities to find a path toward clean drinking water. Read more
Members of the group also study potential changes in direct patient care, determining factors that improve the long-term health of early-term babies, for example, and delivering the findings to clinics, with the goal of saving lives. Others study cigarette smoke-related illness and soil-based contamination.
Team members are developing strong partnerships with the Environmental Protection Agency (EPA) and other environmental health-focused universities, allowing researchers to collaborate with and students to be mentored by, an array of experts.
"The Institute provides training of our next talented generation of environmental scientists and serves as a novel research networking and discovery center," Dr. Fry said. "Our goal is to impact the lives of real people, using research-based solutions."
Dr. Barbara Turpin, professor and chair of the Gillings School's department of environmental sciences and engineering, said she and other members of the department were excited to be part of the new effort.
"This new Institute will stimulate new collaborations across UNC and with community partners, increase success in extramural funding, and improve the public health of vulnerable populations," Dr. Turpin said.
Dr. Fry also is associate chair of the department of environmental sciences and engineering, director of the UNC Superfund Research Program and director of graduate studies in the UNC Curriculum in Toxicology.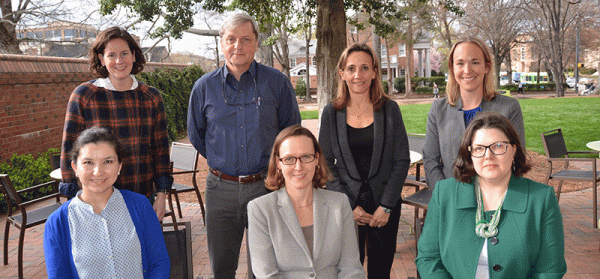 [Photo: Members of the research team at the new UNC Institute for Environmental Health Solutions are (l-r) Ms. Zamira Gleason, Dr. Hazel Nichols, Dr. Mirek Styblo, Dr. Rebecca Fry, director, Dr. Ilona Jaspers, Dr. Tracy Manuck and Ms. Lisa Smeester.]